Promotional codes are used to drive new customers to online shops. There are many ecommerce websites competing for getting new customers. Giving Discount codes at checkout is one way of getting more customers and making more sales.
With the trend of using promo codes there is a need for a website that collects all those codes and earns money with affiliate commissions. This is a story about how a promotional code website built with WordPress generates more than a million pounds yearly.
In this success story we will learn:
How a promotional code website was built.
How to get traffic to your website.
How to monetize promo code websites.
How to earn more by selling profitable websites.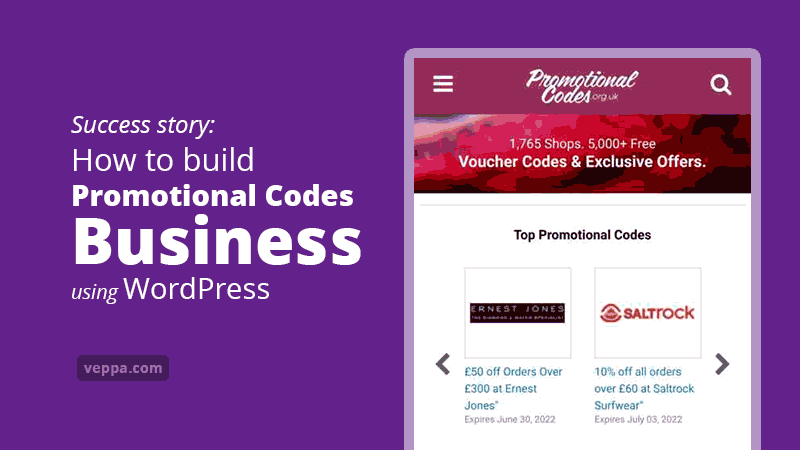 Success story of promotional codes affiliate website
Promotionalcodes.org.uk is a UK centered retail affiliate website offering promotional coders to consumers. Site is built with a 6 month target to become profitable to support a family. Site had a profit of 145,000 pounds in the first year, 1 million pounds second year and 2 million pounds third year. After that it was sold for several millions to other companies. Site is getting 1 million visitors each month, 90% of traffic comes from search engines.
As a backstory Julian Hern – site founder, was working in London and traveling 3 hours every day to work. He saved money for 6 months to start his own business. Tested system with mobile phone promo code blogs then built promo code site using WordPress for main retailers in the UK. Invested 1500 pounds to start a promotional codes website. Worked with a part time developer to build website features he wanted. Focused on marketing and SEO.
In 2005 worked for a mobile phone retailer. Retailer was using promotional codes to draw new customers. Saw how affiliates work with retailers promoting their phones and working from home. Decided to try affiliate marketing himself.
They were creating separate pages for each phone in WordPress. Adding phone details, writing a review article about the phone. Had user comments at the bottom. Affiliate links and buttons to send users to retailers for buying mobile phones.
Tried affiliate ideas with a couple small websites working on weekends. Websites were regular blogs built with WordPress.
In 5 months that idea started to bring some money.
Saved money for 6 months. Quit his day job. Started a website with an initial investment of 1,500 pounds.
Worked with a single remote developer from a European country. WordPress developer to add design and custom features for promotional codes website. Worked on small projects together before starting this website. Used emails, messenger and Basecamp to communicate and track progress on projects.
Reached income equal to old salary in 3 months. Earned yearly salary in six months. Paid mortgage for the house in 9 months.
Learned lots of SEO.

Did keyword research using Google Keyword Planner tool.
Targeted for keywords with low monthly searches.
Searched those keywords and analyzed search results on page one.
Keywords with weak results showing on page one were easy targets to get rankings.

Pages with outdated content.
Not well written or not optimized content.
Form or discussion pages.

Build links to your content. Analyze backlinks of your competitors and get possible external links from places that they are getting.
Build links to individual pages instead of homepage.

Website structure was categories and posts. Retailers (for example Tesco ) were used as category pages. Each promotional code was a separate post. This is similar to pyramid website structure. On the home page there were the latest added promotional codes.
Vouchers (discount codes, promotional codes) were provided by affiliate networks.
Used affiliate networks Affiliate Window, Buy At, TradeDoubler and Commission junction.
Started with 60 merchants initially. Added their promotional codes when affiliate networks sent emails with new codes.
Merchants to work with were picked during keyword research. Google was showing which merchants were searched most.
Built links analyzing competitors. If they have built a competition on a fashion blog then do competition on as many fashion blogs as possible.
Hider writer for content marketing. Wrote blog posts about saving money. Money saving articles are relevant to promotional codes websites.

Hired another influence on Digg and Stumble upon, who shared articles.
Those articles were getting huge traffic when shared.
Some people will link to blog articles when they find it helpful.
This helped to build more backlinks.

Tried social media websites like twitter and Facebook to get more traffic. Also tried PPC (pay per click) for traffic. None of them were getting as much traffic as the search engine was bringing. So he spent 90% of time and effort to get traffic from search engines.
Used Google website optimizer to test different call to action buttons. Used A-B testing to get a boost in traffic and increase clicks to affiliate websites. Test preferable with the whole website and for a longer period to be sure that you choose a winning option without harming your existing optimizations.

Learned that bigger buttons and bigger bolder text increased some conversion.

Site has been growing in terms of traffic and content since its first days.
After 3 years in 2008 the site was sold as a profitable business.
Consulted with accountant to save money from 40% taxes to 10% by keeping money in company and selling company with money in it. When you get money out of the company you pay 40-50% tax. If you sell company with money in it then you pay 10% tax. That is why they kept money inside the company.

Found buyers by using a business consultant that was involved with selling companies. Found him on google searching for "grooming companies for sale". Found a video explaining the process and contacted that consultant.
Created list of potential buyers checking companies that sold or bought promotional codes websites in the past.
Created a PDF file with details about the company and emailed potential buyers.
Sold company working with a business consultant.

Some competing voucher codes websites sold for a higher price because they had a huge email subscriber list with 4 million users. It makes a big difference when sold with big subscriber lists.

Email subscribers were built with offline voucher codes for shops like local pizza and fast food.
They do not provide any affiliate links.
Offline codes will be printed and shown when buying from those shops.
Websites were requesting to subscribe using email addresses to get printable code and get notified of future voucher codes.
Learn more from interview on mixergy.
Keyword research for targeting and choosing domain
Promotional codes succeed because of good keyword research. In the UK there were 3 terms used:
"voucher codes" targeted by most affiliates.
"discount codes" targeted by some affiliates.
"promotional codes" were not targeted by any website. Means no competition at all. Used this keyword to target and bought a domain containing this keyword.
In terms of SEO all 3 keywords were ranking different websites. Choosing keywords with no competition helped to get traffic from day one. Traffic growth continued until Google Panda update.
What type of hosting is good for a promotional code website?
As with all new websites it is advised to start small and move to better hosting when traffic grows. That is exactly how promotional codes used to host their website.
Started with shared web hosting. When articles were promoted it had 20k visitors per hour bringing the website down. Then moved to VPS hosting.
Had security issues on the website and was delisted from google for 2 weeks. Google was thinking that the website was distributing some harmful software.
Then moved to a dedicated server. If your website earns enough money it is always advised to use a dedicated web server.
In terms of website speed VPS and dedicated server does not have much difference. When you visit a website you will not feel much difference. Dedicated servers are more reliable and secure. It can handle traffic spikes well. Some dedicated servers have good support for fixing server related issues fast. They are more expensive and can be as much as 4000$ per month.
Check best WordPress hosting services including cloud and dedicated server providers.
How does the promotional code website work?
Promotional codes is beneficial for all 3 participants:
Business who provide codes.
Buyer who uses code.
Affiliates who promote codes.
Businesses who provide codes increase sales and compete with their competitors. Buyer gets a discount on online purchases. Affiliates earn money from businesses who provide codes and deliver code to mass buyers.
Main takeaways from promotional codes business success
Here are some key notes from the interview to learn how to build promotional code business.
Test ideas by building small websites and optimize for search engines. Get keywords from Google Adwords keyword tool.
Register with affiliates like Affiliate Window, Buy At, Trade Doubler. They provide codes and affiliate links.
Hide code and request click to view code and open the website in a new window to record that you have sent the visitor.
Do SEO for your website. Usually the buyer comes to the checkout page and then searches for affiliate code. Optimize for that.
See what backlinks your competitor has using SEO tools like Semrush and Ahrefs. Websites with strong backlinks listed at the top of search results. Get those backlinks for your site as well. Get backlinks to specific pages for each retailer. Do contests in related blogs to get quality backlinks.
This is a huge success for business as there is minimum expense and big profit. Key to success is SEO and marketing. It also can be a lifetime business.
Tricky part is relying on Google for traffic. If SEO is done right without any unnatural link building then Google updates should not affect your rankings. Also diversifying traffic sources is always suggested for steady growth.
Work on keyword research and general SEO for getting free traffic for your business.
Read more case studies and success stories to learn more from real businesses.
Using WordPress on shared web hosting for building such big and successful business is proves one more time that it is powerful and flexible CMS.