There are many software developers and companies that earn money by selling WordPress plugins and themes. They are great for earning passive income as a software developer. This developer goes one step further and offers services and hosting to WordPress websites.
In this case study you will learn which plugins are profitable and where to move after finding that money making plugin idea. How to transition and bring customers from WordPress plugins to hosting business.
Founder of 10web.io, Armen Saghatelian, started making websites while studying and gradually converted it to a profitable business. There were many decisions that shaped his business along the way. He never stops at the reached level and always looks for ways to expand business and take new challenges.
10web.io is a managed WordPress hosting provider with integrated web services and plugins. It is all in one solution for WordPress websites that earns 7 digit revenue (1-10 million $) per year. More than half of this revenue comes from WordPress plugins. This is in 2019 when their WordPress hosting business was new.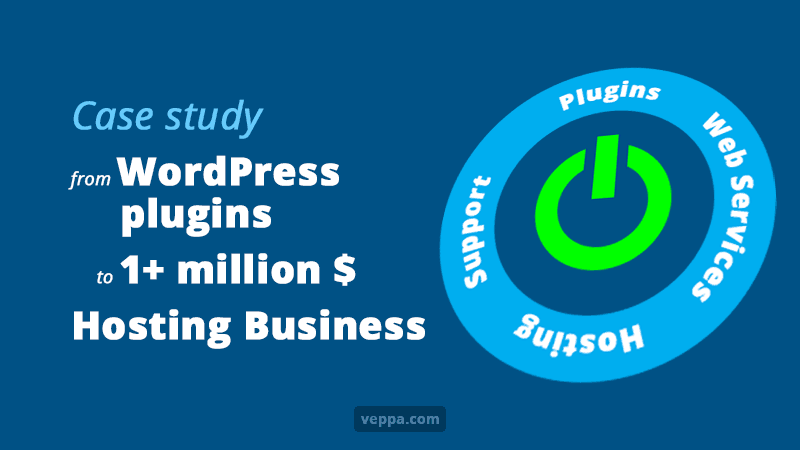 Let's follow his steps and learn how creating websites led to profitable multi million business with this case study.
Finding profitable plugin idea
All started in college when Armen and his friends started creating web sites on the internet. It was their initial income stream while they were studying in 2012. After some time they decided to create plugins for Joomla CMS. Jooma was popular then and it had paid plugins in their marketplace. They created a couple plugins for Joomla and were earning some income from them.
WordPress was steadily growing over the years. They were researching and asking people if they should create plugins for WordPress as well. People said that Joomla is a solid earner and do not lose it trying to earn money from WordPress plugins.
Armen wanted to test it and they created a couple WordPress plugins. Photo Gallery was their first plugin which is still popular and has 200k active installations (checked in may 2023).
They were providing free plugins with premium versions. Premium versions were with yearly subscriptions for updates and support.
After testing with a couple WordPress plugins they switched their focus completely from Joomla CMS to WordPress. WordPress is used by more websites worldwide, 43% market share in 2023, and has much more potential to earn money. Joomla accounts for 1.6% of all websites, which is 26 times less than WordPress. In 2019 WordPress had 30%, Joomla had 3% market share.
Read related story where theme developer sells premium themes for multiple platforms including Joomla and earns 2 million $ per year.
In the second half of 2012 they created a second plugin for WordPress called Form Maker. This plugin instantly started to earn money.
Idea for Form Maker came from web service for forms WuFoo. Armen liked it and wanted to create a flexible and easy to use Form Maker for WordPress.
There are some important points when selling premium plugins for WordPress.
Create a free plugin with extra features available with the Premium version.
Premium versions should be paid with subscription to cover development and customer support expenses.
When subscription ends users can keep premium WordPress plugins but don't get updates or support.
Plugin updates are always needed because of updates in server software, WordPress and PHP. With every new software update there may be some code changes needed for plugins.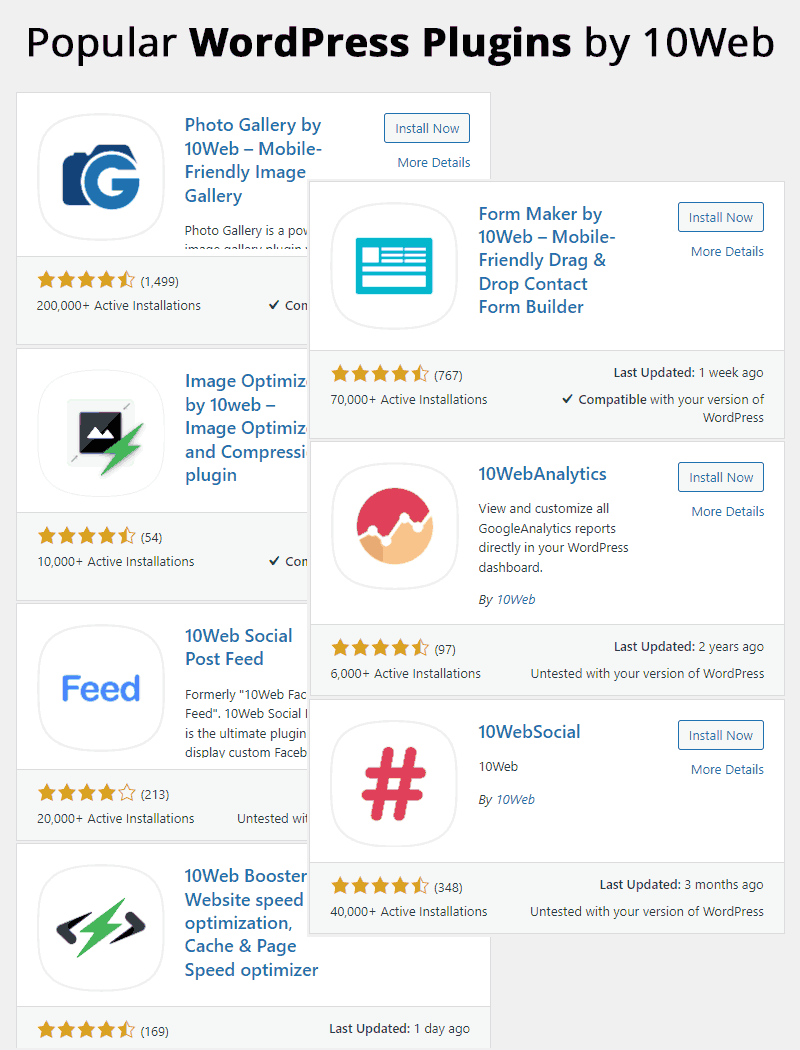 They have all sorts of plugins for creating photo galleries, using images from social networks, website optimization, caching, image optimization, form maker, analytics etc.
Why are there so many form plugins and all of them are profitable?
If you check the WordPress plugin repository there are more than 100 form plugins. Almost all of them have premium versions and most of them claim to be profitable.
Why are input form plugins on WordPress popular and profitable? Because forms are used for all types of activity like custom contact form, event registration form, feedback form, invitation form, booking form, order customization form, job application form, payment form etc. All types of businesses need some sort of form on their website.
There is an impression that if you create a new form plugin a bit different than others it will succeed.
Takeaway
Move from single client product to multi client product. Write once and sell multiple times.
Use existing popular platforms for adding custom functionality instead of creating separate stand alone products. Existing platforms have the potential of reaching more customers.
Use a free plugin to reach more users and allow them to use your plugin. Offer premium versions with additional features, regular updates and customer support.
Use recurring payments when selling premium plugins. Plugin revenue should cover expenses for providing continuous customer support and regular updates.
Do not be afraid to enter with already saturated plugin ideas. There are still possibility to succeed with right
Provide complete solution for all WordPress needs
What is next after succeeding with WordPress plugins? When you reach a certain height in your business that is the time when you start thinking about next steps to keep earning profit and growing your business.
In one of WordCamp meetings hosting companies were sharing their success. Armen also get inspired by their success stories. It was clear that the next big thing for websites was fast managed WordPress hosting.
Modern web hosting companies were growing while old hosting companies were slowly losing customers. Armen wanted to bring modern technologies to WordPress hosting.
Plugin clients started to ask for fast reliable hosting recommendations. Instead of partnering with existing hosting companies or being an affiliate they decided to build their own hosting solution.
Modern hosting with custom dashboard with everything related to WordPress. All old hosting companies were using cPanel which is very old and not designed specifically for modern WordPress websites.
They created a hosting dashboard in 2 years and gave it to some users for feedback. In early 2019 they launched their hosting service using google cloud servers. Instead of investing in their own servers and data centers they used existing fast and scalable Google cloud servers.
Their server software allowed them to create new Linux containers on cloud for any number of customers. They pay only when they create and use hosting for clients.
Pricing for managed WordPress hosting converted to simple to measure unique users per month value. For websites with small traffic, powerful cloud hosting will cost similar to shared hosting.
After creating hosting they reached all their plugin users and invited them to use new powerful hosting. This strategy was not effective and very few customers came to the hosting.
They started to think about how to bring customers from WordPress plugins to hosting business.
Takeaway
Research new ways to extend business by attending WordCamp meetings.
Create modern solutions by using new technologies.
Expand business to better serve existing customers and bring new ones.
Huge number of free plugin users do not convert to hosting customers easily.
Create web services to convert from WordPress plugins to Hosting Business
Most plugin users complained about slow old hostings and multiple points of contact when some WordPress plugin issue arises. 10Webio converted this to opportunity and started creating all in one solution for WordPress websites.
When there is some issue with the plugin website owner will contact the plugin author. They will investigate and tell the customer if it is hosting or some external service issue. Then the website owner will contact them and after multiple tickets they will solve their problem.
This way of fixing errors is pain for website owners. 10web wanted to create an all in one solution to provide plugins, services and hosting. They will be a single point of contact and solve any WordPress related issue quickly. This will result in better user experience for WordPress website owners
10web created web services for WordPress backup, image optimization, SEO, content creation etc. Then they created more free plugins to use those web services which were using 10web servers.
Users can use their services for free with some limitations. This way users will get more familiar with the 10web brand and their solution quality.
We know that just telling millions of free plugin users to use their hosting didn't work.
To bring more hosting customers 10web used the following strategy.
Offer free WordPress plugins with limited free services for backup, image optimization, security, SEO. Users register on their website to use free services.
Offer complete website backups for free.
After completing backup offer one click solution to try their hosting speed for free in subdomain. Users can experience the full potential of their hosting, do benchmarks and feel how it compares to their existing hosting provider.
Offer an easy way to switch to their hosting with just changing DNS records from their domain registrar.
With this strategy switching hosts is more attractive and site owners will already be migrated to new hosting using the regular WordPress backup process.
To create the best user experience they created more than 50 plugins, multiple services, easy page builder, fast cloud hosting and offer single customer support which is packed as all in one solution for WordPress websites.
Think of it similar to Wix website service but with a more powerful and more expandible WordPress CMS.
Using this strategy 10web gained 5k hosting customers in half year of 2019. Currently in 2023 their website shows that they have more than 50k customers.
Takeaway
Find a solution to better transition free plugin users to paying customers.
Make it easy to try your solution with minimal work from the client side.
Create one click solutions.
Give the ability to try hosting without paying and migrating.
Bullet point version of WordPress Business success story
If you would like to scan through easy to read bullet point version of 10web success story then here it is:
10web is a business providing WordPress Plugins + hosting + page builder + support.
7 digit revenue in the range of 1-10 million $ reported in 2019.
More than half of revenue comes from plugins.
Top plugin Photo gallery. Then Form Maker. Close to 300k active installations in WordPress.org repository in 2023.
Payment is subscription based for support and updates. Plugins can be used forever because they are GPL licensed.
People pay for updates, for work of developers keeping plugins compatible with the latest version of WordPress, PHP and other plugins and hosting.
Started creating websites with his classmates while studying in university in 2012. Then started creating plugins and publishing them in WordPress.org website.
Free plugins with premium versions. Their site was called web-dorado.com
Then in the second half of 2012 created the Form Maker plugin which was profitable from day one.
Watched wufoo interview on mixergy and got inspired to build an easy Form Maker plugin for WordPress.
Why do new plugins have a chance to get popularity in WordPress? Because WordPress search algorithm is easy and it gives change for new plugins to come up in search results and get some attention regardless of their popularity. With some good reviews any new plugins with the right words can get many new users.
Everybody needs forms. Not only for contact form but for registration for events, invitation forms etc. Most companies needed it.
Initially started with Joomla plugins. Then completely moved to WordPress because wordpres was gaining more popularity and was 10 times more popular than Joomla.
They measure every decision. At the beginning they were focusing on Joomla. Then they asked people if they should write WordPress plugins as well. Most of them said Joomla is good and has more paying customers. But they created a couple WordPress plugins for testing and realized that WordPress has bigger potential to grow revenue. Then they switched completely to developing plugins for WordPress.
Biggest traffic source is WordPress.org. They have blogs with helpful content which gets search engine traffic as well. Also they have a Facebook group for community.
They started providing free WordPress services as well. Image optimization, free backup services for WordPress etc.
Clients started asking for hosting recommendations. They didn't have any hosting partnerships to suggest to clients. Instead they decided to offer their own hosting to customers.
They saw that WordPress hosting is getting popular and companies are earning big by providing WordPress hosting services.
Hosting with new technologies is gaining popularity while old hosting companies are fading out.
For example Wpengine uses Linux containers while old hosting services still rely on shared, dedicated, VPS hostings.
There are disadvantages for each of the old hosting solutions.

Shared hosting can be slow when one of the hosting users gets lots of traffic and others will suffer.
Dedicated and VPS hosting is fast because they are dedicated to your website only. But they need dedicated staff to manage it for you. Because it gets too technical for regular WordPress users.
Modern way of hosting is using Linux containers in the cloud. They are similar to VPS but use server resources more efficiently.

Another technological innovation is the control panel for hosting. Old companies use cPanel. They created a more user friendly interface for managing hosting. Also added integration to install and manage WordPress websites.
They created hosting, a dashboard to manage it, web services to optimize images, backup services, security service to scan files for websites.

They created all in one platform.
Before site owners used hosting from some companies, plugins from other companies, services from other different companies. When they get a problem there is no clear direction to ask for help. Is it a hosting, plugin or service problem? This is a pain point for most WordPress websites.
They created all in one solution to host websites, provide plugins and services in one place. To solve any problem customers contact them and they fix it.
They came to this because plugin customers were contacting them when they got issues on their website. They will say it is the hosting or service responsible for the problem. That way they knew that there is a pain point and a need to create an all in one hosting and service solution for WordPress websites.

Has 5k hosting clients in half year of 2019. Target to get 10k hosting customers until the end of the year.
Created hosting platform software in less than 2 years.
First created version without hosting as software only. Clients started using it and providing feedback. Then they started hosting it. Then added ready made websites and site builder features.
You still can connect your WordPress to their dashboard and use 50+ plugins, image optimization and backup services with them.
Then you can test their hosting with one button click. Your WordPress website will be available at subdomain for testing and experiencing their hosting solution. When you decide to switch to their hosting you will then just need to point your domain to their hosting and that's it.
Had a dilemma to make it easy for all WordPress users or focus more for developers.

When they released hosting it become clear that hosting needs to be developer friendly because their clients were agencies and freelance developers. Website owners were not creating websites themselves.
WordPress is a preferred platform for agencies and freelance developers creating more than 100 websites yearly. WordPress has more flexibility and more options than any other platform out there.
Even simple website builder platforms like wix or squarespace are not used by individuals. They are used by agencies for creating websites for individual users. Users do not want to spend time creating websites themselves.
Do it yourself segment is not small but businesses prefer using developers to create websites for them.
WordPress has a huge community and more than 50k plugins. While Wix has 300 apps on their platform. Also when you have a problem you are not the only one having it and you will find a solution on the internet for every possible problem regarding WordPress website. So WordPress is a preferred way to build a flexible website for every need.

How to bring customers from WordPress plugins to hosting business?

Tell millions of plugin users that if you like our plugins we have a web hosting solution to host your WordPress website?
It didn't work and they had to try several ways to bring hosting customers.
Step 1: When they asked to try their hosting nobody came. Then they created a free backup service and offered backup on their platform.
Step 2: After user backup their website they offered to create a copy of their website and compare website speed with their hosting. User copied site, tried image optimization, security scans for free. Used a hosting dashboard and got familiar with their hosting.
Step 3: offer moving to their hosting completely.
Create webinars and use their plugins and services there. Send video of webinar to their free and premium plugin users.
They offered a discount deal with appsumo. Platform hosting using google cloud, plugins, services, support all for the price of shared hosting. 69$ for managed hosting for 30 sites. Deal.

What information shows Ahrefs (SEO service) about 10web.io website:

Their website is popular for the search term "photo gallery". Most people come to their website because of the popular plugin that they offer on WordPress.org. That traffic has very low conversion for web hosting.
They have 1.7 million backlinks. They are not from plugins because plugins do not add links to frontend. Links are only in the backend of the plugin. Links are from discussion about photo gallery plugin.
What is the current status of 10web.io in 2023?
They have more than 50k customers according to their website.
65 employees according to their linked in company profile.
They focus on the current trend of AI generated content.
References:
Conclusion
In this case study we have seen that students started creating websites then created WordPress plugins as a way of earning passive income as a developer while studying. Became profitable after trying multiple plugin ideas. Reinvested earnings to create modern web hosting, found a way to convert plugin users to web hosting customers.
This approach helped to shape a modern hosting company dedicated to the WordPress platform and securing a future with a more solid recurring revenue model.
You have learned how to move from profitable WordPress plugins to hosting business with powerful web services and customer support.
Why bring customers from WordPress plugins to hosting business?
Because recurring revenue for WordPress plugins is one thing where users can switch to other plugins much easier. Providing fast WordPress hosting and making sure that your plugins and services work seamlessly on your hosting is a more secure way of earning recurring revenue. Modern hosting with all in one solution has more room to grow as well.
Read success story of multiple profitable plugin developer Webkul and story of 10+ million $ plugin business WPbeginner.