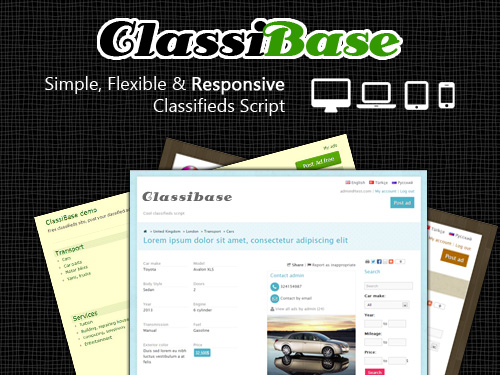 It is simple to install, simple to manage, simple to use classifieds script written in PHP. Yet it is flexible to fit your design. You will not need any programming knowledge to use this classifieds software.
Classibase can be used to build community driven classifieds website known as marketplace and earn money from advertisement or paid options like featured ads, paid categories. Script also can be used to list your own items be it property, vehicle, job, pet listings or any other niche you are working on.
One of recent features added to script is PWA (Progressive Web Application), which converts it to web application can be installed on mobile devices without being listed in any marketplace. You classifieds website visitors will be able to install it while browsing your website.
Classibase themes are responsive so that your visitor will see optimized version of your classifieds site to their device be it mobile phone, tab or PC. Responsive and app like themes are important because 80-90% of classifieds website visitors are coming from mobile phones. Script uses widgets to customize pages and controls content displayed on each page type. One of the most valuable widgets is related items widget, which will show alternative listings similar to the listed item.
 Classifieds Ads Marketplace Script Screenshots
Classibase – Simple, Flexible, Multilingual, Responsive Classifieds Script
Front page with categories and latest ads. Front page is completely built with widgets so you can decide what to display in front page.
Ad listing in Cars category. Featured ads are marked with special label. Search refinement can be done on sidebar.
Ad listing page with contact options and related ads.
Admin dashboard with easy to view site status
Admin side of ads, you can manage ads here.
Check Classibase website for more info and try online classifieds website demo.
Looking for more? Check my projects page.