We all have some spare time during the day. It is usually small chunks around one hour. We can spend that time watching movies or hanging out on social networks with no much benefit for us. What if I say that you can spend that spare time during the day to generate passive income.
Having rest also means changing your activity and doing something different. Writing articles can also be considered as resting. You can rest during the day by writing content articles that solve your own problems. When your problem is common with most people then you can attract a huge group of readers who look for solutions to their own problems. They will read your blog and your journey, learn from what has worked for you and apply to their own problem.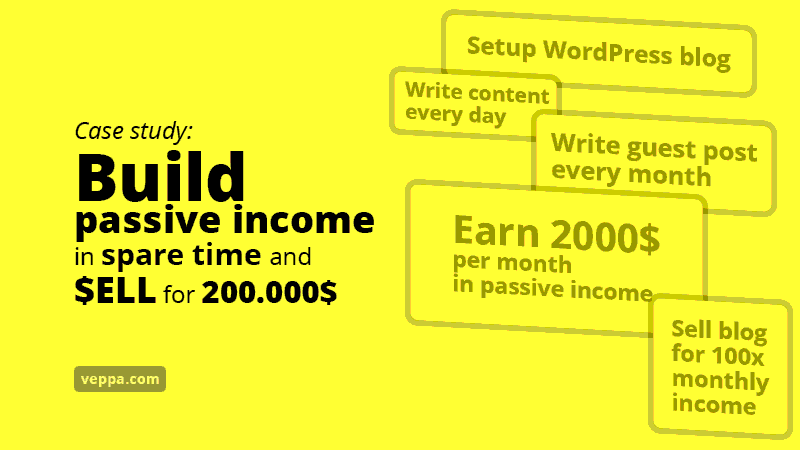 In this guide you can learn how a person with a full time job committing one hour per day builds a niche website earning 2000$ per month in passive income and sells it to advertisers for 200.000$. Patrick Meninga has done it in 4 years but could be accomplished faster if he knew what he learned during those 4 years.
Case study: Earn money with a personal blog and sell
Patrick started in an area that he personally had experience with and his main goal was to reach 1000$ per month and quit full time job. He reached that goal in 4 years and after 3 months he reached 2000$ per month milestone. His project that sold for 200.000$ was a help resource to quit alcohol and other harmful addictions.
Patrick followed 3 simple steps to achieve this success.
Setup WordPress blog/website by buying domain and hosting.
Write content every day. 90% of workload.
Write guest posts every month. 10% of workload.
Let's break down steps of this building passive income in spare time success story:
Setup WordPress site
Buy a suitable domain name for your topic of interest.
Buy .com domain with no dashes in it. Prefer short domain name with 2 phrases.
Your topic needs to be helpful for people that would have constant search traffic and interest.
Buy hosting plus free domain. It is affordable and starter friendly. Buy a package with support for many domains because you can build other sites as well and you wouldn't need to spend more money to host all your websites.
Install and setup WordPress blog.
Install Google Analytics to analyze traffic sources and keywords.
Add Google AdSense at a later stage when you have at least 10 articles.  This is not important at the beginning you can add it 3-4 months later as well it is up to you.
Setup related articles plugin for WordPress.
Write content every day
Every article on the website generates traffic. More articles you have, the more traffic you will get.
Write articles yourself and do not copy from somewhere else.
Do not outsource your writing because it will be low quality or spinned from other resources.
Focus on providing value to the reader.
After having some traffic analyze your site statistics and get a list of keywords send traffic to your site. Check each keyword by searching on google and if you are not on the first page for that keyword then write an article using that keyword.
Generate your keywords ahead, for example 100 keywords to write about. Patrick generated 5000 keywords and wrote 25 articles on holiday as an experiment. Also can be done for a short time.
Write every day so you will get more professional at writing. It will be much easier and faster as you write more content.
Articles should be at least 500 words. His articles were on average 1000 words. Update 2022: with current ranking trends it is advised to write articles at least 2000 words for SEO.
After reaching 100 articles you can focus on creating a pdf book in your niche. Define at least 10 chapters in your book and publish each chapter in your site if it is not published already. Then create a book and distribute it. This can an additional income stream for your business:

For free to gain more readers and natural links suggesting your book from other websites.
For a subscription to your newsletter. To grow your audience and get returning visitors that will keep coming to your blog every time you post new content. You can also suggest related products that you experienced to your subscribers via email marketing.
For a little price like 19$. Also you can publish it for kindle or as paper book using amazon or other publishing tools.
Write guest post every month
Guest posts are a way of getting links to your blog by adding quality articles in other related blogs. It is a win-win situation for you and the blog that you write content for.
Check recommendations by Patrick regarding guest posts. He shares how to start conversation with relevant blogs and how to avoid getting spam links.
Guest posts are used for getting quality backlinks.
Do not automate your backlinks for quick results. Do not use any software for automatically linking, commenting and distributing content.
Use natural backlinks. Comment yourself on related blogs.
Leave meaningful and long comments, 300-500 word comments on blogs that you want to write a guest post.
Communicate with blog authors in those blogs by comments first. Then after 3-4 long comments and healthy conversation discuss writing guest posts on their blog.
This will help to build relations and backlinks to your website.
After a year you will have approximately 10 quality links to your site and many links from blog comments.
Benefits of guest posts for other blogs
They get well written content that fits into their website niche
Shared in the social media account of both blogs.
In some cases it is possible to earn some money by accepting guest posts.
Benefits of guest posts to your blog
You get backlink from their blog. Increases page rank for your linked content.
Your website will be introduced to regular readers of that blog. Increase in traffic.
Will get traffic from social media when shared in accounts for both blogs.
Find buyer for profitable content website
When you have a profitable blog with quality content and steady traffic you can sell it and get future earnings at once. There is a way to find a good buyer that will value your content.
Analyze your businesses that advertise on your website.
Find advertisers that advertise on your site through Google AdSense and offer advertising directly on your site.
If your advertiser is happy with results after directly advertising on your site, offer to sell your website.
Your advertiser can be a buyer of your website that you can sell for 100 times your monthly income.
Price your site by the value that it provides to your buyer. If it is a company that specifies in your niche then value will be much higher as 100 times the monthly profit. This is due to the website age and constant targeted traffic that converts really well.
For comparison, the average site sells 18 times the monthly profit. For established and focused niche sites it can be as high as 100 times of monthly profit.
There are many factors that define the sale price of a website. Diversity of traffic sources, number of email subscribers also play a big role in final price. Check the sale story of a website that provides voucher codes.
Selling your website gives you more opportunities to start new projects. You will secure your income for many months ahead. And in that time (100 months is more than 8 years) you can find similar projects that you can monetize and sell.
Repeat what is working and continue earning passive income.
Other important steps taken to accomplish this success
First 6 month or year do not expect much income from your blog
It takes 2-3 years to reach 1000$ goal. This may vary by niche that you selected.
It takes less to reach 2000$. In his experience it took 90 days after 1000$. You still need to continue writing articles and guest posts.
Your main metric is your income. Publishing articles helps to increase income the most.
Patrick Meninga has a personal site makemoneywithnowork.com where he explains in depth all steps he took and also has many free ebooks related to building profitable niche sites that generates passive income. His project that he built in spare time and sold is spiritualriver.com (site is offline as of 19.01.2020).
Notes on this post are taken from an interview published  on Yaro's website, from there you can also download mp3 of interview.
FAQ
How can I make $1000 a month passive income?
You can share your experience while fixing your own problems or learning new skills. You get a relevant audience to your blog. By doing research and writing comprehensive guides you can monetize traffic with ads. When your blog traffic grows you will reach $1000 monthly income.
What can I do in my spare time to make money?
You can build a blog and write articles teaching people things that you know. Writing articles can be done in spare time for example in one hour slots. Your blog will grow with relevant content. You can monetize your blog with ads and affiliate links. Time that you spent writing articles will be your investment. They will bring you traffic and money in the long run.
How can I make passive income with no money?
Making passive income can be started with free blogs with no initial money. But for getting some real results and optimizing your blog for SEO it is better to build your blog with your own domain and hosting. Blogging software worpdress.org is free and open source. Hosting and domain will cost you around 60$ each year. That is the minimum cost that you have to spend in order to build your website as a brand.
Learn how to start a blog with minimum investment in my guide.
How does content marketing generate revenue?
Content marketing is stimulating interest in particular products or services. You can write content to teach how to achieve certain goals while using some affiliate products. Users interested in achieving that goal will buy products influenced by your content. This way you earn money when users buy products that you recommend as an affiliate.
Similarly when you write articles fixing common problems you get targeted traffic. When you put contextual ads to your blog users clicking on related ads will help you earn money.
You can use content marketing to market your own products as well. For example, they sell e-books, software products, plugins, themes, and courses.
Conclusion to build passive income in spare time
In this case study we learned how a person with desire to fix the problem shares his journey and attracts like minded people. Earns money by showing contextual ads. Finds a direct advertiser for his blog and then sells the blog for 100x of monthly income.
All of this is done with a regular blog built with WordPress. Content is written in spare time. Many new marketing strategies learned along the way.
If you are on some kind of journey in your life and want to earn money while sharing your experience in spare time then create a blog and start writing.
If you are software developer who looks for passive income then check success story of a software developer.
Good luck.