Most developers want to build their own business and start earning independently. Get financial freedom. Be your own boss. They are always looking for ways to earn continuous income which will last for many years. Earning money developing plugins is one of those business ideas that can grow and bring huge income.
In this case study we will learn how Plugin business started and grew over time.
You will learn:
Requirement to start a plugin business.
Find profitable plugin ideas.
Scale plugin business.
Earning potential for plugin development business.
We learn by our own actions and mistakes or by reading case studies and success stories from similar stories. In this case study we will learn from the success of the plugin business called Webkul. They develop and sell plugins for multiple content management systems and earn more than 1 million $ per year.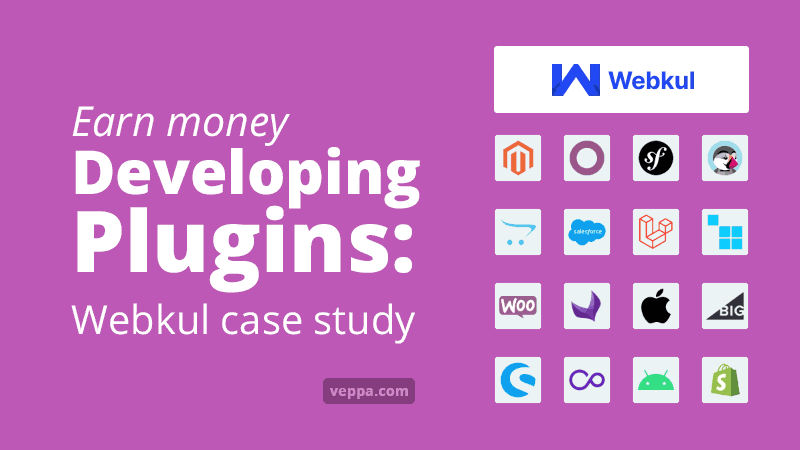 Plugin business is one of the high earning income streams for software developers.
Let's learn how they started, what challenges founders had, how they grew and found their niche.
Webkul business model and success story
This is the story of Webkul Software which started by selling small social plugins for Joomla then progressed to providing plugins for several e-commerce platforms. Story of Vipin Sahu, founder of webkul.
Started in 2009 by creating Facebook and Twitter plugins for joomla. Sold for $10-$15 and in 3 months earned 500$. Used Joomla because they had marketplace where they allow selling plugins, while WordPress marketplace allowed only free listings.
Created 10 plugins some of them were successful like twitter feed and Facebook page feed. Other plugins were not very successful.
Was supporting customers who bought plugins and asked in return to review and rate them in order to gain trust and attention in the marketplace.
Some of the first plugins were taking 5-10 hours to build. So he built it overnight.
Quit his day job after realizing that he didn't learn much there. And started to focus full time on plugins with his friend. Learned some SEO techniques to market plugins that they wrote.
In the beginning plugins were with lifetime support but then to make business sustainable they offered 6 month or 1 year support. On purchase any plugin customer gets 3 month free support. Also they can choose installation help for a separate fee.
In the beginning he hired a person who worked daytime on the computer in his apartment while he was sleeping and then at night he woke up and worked on the same computer. This was in the first year and half.
Started to generate content to market their plugins. Wrote marketing posts about 5 plugins 2-3 of them were their own plugins.
Main targets for plugins and traffic sources are Jooma, Magento, opencart e-commerce platforms.
They constantly add new plugins and new e-commerce platforms like woocommerce, x-cart etc. So they get more customers by supporting new platforms.
Monitoring big sites like amazon, eBay, Alibaba they get ideas for new plugins that can be created for open source e-commerce sites like Magento, opencart etc.
Marketplace plugin that converts most e-commerce sites to a vendor platform where other shops can list their products like in amazon or eBay is inspired by such big sites.
Marketplace plugin sells for 349$ and 3 plugins sold on average daily.
Wrote some plugins for shopify with a monthly subscription fee. Payments are handled by shopify.
Yearly revenue from all plugins is 1.000.000$ in 2014. It includes revenue from plugins, installation fees, and ongoing support fees.
In 2020 scaled plugin business to 7 million $ in revenue per year with 500 people staff.
From 2019 to 2022 during the pandemic period more stores moved to the online model. More online stores and e-commerce marketplaces have been created all over the world. This also boosted revenues for plugins providing store functionality.
Currently in 2022 they have reached 80k customers across the globe.
Name webkul came from old language where gurukul means school, and combining it with web makes webkul as school of web or like temple of web learning.
This notes are taken from interview on mixergy website, you can view full interview here and here.
Main takeaways from webkul success story
Starting a profitable online business does not require initial investment. Key factor is to keep working even in very limited financial conditions. Try many small plugin projects that can be completed in one day. Offer paid versions for those that get popularity. Add features that can be monetized. Use existing plugin marketplaces that have built in payment features. Support your customers and ask for a review to get some trust in the marketplace.
Create your own website and apply SEO techniques to promote plugins. Review your plugin pricing strategy to make business sustainable. Offer additional support as monthly service. Separate setup pricing from your main plugin.
Learn from giants in your industry (like Amazon, eBay, Alibaba etc.) when looking for new plugin ideas and features. They always use winning features and encourage other players in the industry to use similar features.
Scale business by adding popular plugins to similar CMS (content management systems). Users are not limited to single CMS, get new loyal customers by offering the same features over a wide range of online software platforms. Webkul offers plugins for more than 10 content management systems: Magento, Woo commerce, Opencart, Odoo, Shopify, PrestaShop, CS-Cart, Salesforce, Shopware, Laravel etc.
Benefits of developing plugins instead of separate software
When starting a software business it is important to know your possibilities and possible challenges in near future. When developing stand alone software there are certain benefits like managing all technical aspects of it. This gives more flexibility for future growth. At the same time it is more challenging and requires more resources to manage separate software.
Developing plugins on the other hand is a much smaller project. Most functionality of the main system is already built and managed by the main team of Content Management System. You can use all built in features and provide extra functionalities with much less resources.
Let's look at main benefits of developing plugins in comparison vs. standalone software
You work with less code. Generally plugin code will range from 1% to 30% in comparison to whole CMS code. This means less human developer resources needed.
Plugin developer focuses only on main functionality of plugin. You are not responsible for areas that your plugin is not using.
All plugins are offered within most content management systems. It is easier to get targeted users.
CMS handles installation of plugins. You do not need to teach how to get hosting, upload files, setup Mysql, setup server etc. All installation processes are smoothly handled by CMS. This makes it much easier to start using your plugin. Users will find and install your plugin with the click of a button.
No technical skills needed for installing and using plugins. This will bring much more users compared to standalone software with a hard installation process.
Easy installation also means more users will try your plugin.
Competition is low. There are only a couple plugins that can offer similar features. Your plugin will always show in the first page when searched for relevant features.
Statistics like number of installs and user reviews provided by CMS will make marketing for your plugin much easier.
For single developers starting a plugin development will be much easier. They can evaluate possible ideas with small free plugins that take 1 day to develop. Later popular plugins can be monetized with additional features. Marketing and installation handled by CMS will bring more users.
How to earn money making plugins?
Try many different small plugin ideas to find popular ones.
Focus on developing popular plugins from your portfolio by adding new features and monetizing them.
Monetize wisely so income from plugins will pay for support and further development. Do not use one lifetime price with unlimited support. Use sustainable and separate prices for support and installation services.
Scale plugin business by developing profitable plugins for other popular content management systems.
Learn from market leaders to add new valuable features to your plugins.
Offer extra features that are not part of the main plugin with additional pricing.
Make plugins that work with each other. This will bring sales to additional plugins that add more value to your customers.
Read success story of Forum Maker plugin.
Popular CMS for making plugins
To earn money developing plugins we need to focus on popular CMS that has many business users. Content management systems that are used by businesses are easier to get paying customers. Not business related CMS like forum software, chat, gallery software etc. will not bring much sales. Remember that businesses pay for earning money using your plugins. So focus on CMS that is used by businesses. They are mostly systems with e-commerce or business website features.
Here are popular CMS used by businesses:
WordPress & woo commerce
Shopify
Magento
Opencart
Joomla
Odoo
PrestaShop
CS-Cart
Salesforce
Shopware
Laravel
WordPress is most popular CMS in the world. It is used by more than 40% of all websites. Also it is more competitive than other platforms. As a plugin developer do not restrict yourself with WordPress only. Try different platforms and dominate across all of them when possible.
Compare: Single plugin vs Multiple plugins vs multi platform plugins
Plugin developers have many scaling scenarios. In order to grow sales and increase your revenue try various scaling options. Let's see what they are, with pros and cons for each of them.
Single plugin
Having a single plugin with many paying customers is an ideal solution for earning steady income. You can scale by bringing more customers while offering the best in the class plugin. Adding new features and tuning existing ones will be your priority.
Pros:
Can develop best in class plugin with no real competition.
Can be handled by a single developer.
Income mostly will be passive.
Easy to maintain and provide quick updates.
Time and resources will be spent making good and popular plugins even better.
Cons:
Income can be limited.
High risk of getting a better prepared competitor with a big developer team.
Multiple plugins on same platform
Developing plugins requires good knowledge of the parent software system. After creating a couple plugins you can continue creating new ones or acquire plugins. You can acquire plugins that will complete your portfolio or complete with your plugins. In any case you will be sticking with one platform and use cross promotion for your other plugins.
Cross promotion is when you are promoting one product inside another product.
Pros:
Easy to develop plugins once you learn parent system
Has a cross promotion opportunity.
Has potential to earn more money.
Cons:
Hard to succeed as a single developer with multiple plugins.
Each plugin should have at least one dedicated developer.
When choosing a small CMS you may be leaving bigger opportunities compared to popular systems.
Multi platform plugins
Plugins for multiple content management systems can be the next step after having multiple plugins on the same platform. This is a totally new level when developing plugins. You will have to learn multiple platforms very well. Multi platform systems have huge earning potential but also require a lot of staff.
Pros:
Huge earning potential.
Possibility to dominate on the internet when developed all popular CMS
You will be prepared for success when building an already popular plugin to other systems.
Functionality can be built using single code with integration to multiple systems.
Cons:
It requires a big team. Developer, content marketer, support personnel for each plugin on each platform.
Huge monthly expenses for staff. Meaning all plugins need to be profitable to support its own staff.
Managing such a big team can get complicated.
This is how Webkul operates. They have a huge team of developers, marketers and support staff. It all started as a single developer then gradually grew to a multi platform multi plugin company.
FAQ
How much do plugin developers make?
Plugin developers can make as much as 1 million dollars each year. This is usually a team of developers and marketers. It takes a lot of effort to be number one in the competitive plugin niche providing best features and support for customers.
How do I monetize plugins?
Plugins generally use free features for general use then provide pro features for monthly or yearly fee. It works like a funnel. With a free plugin more users learn about your plugin and use it. Users who need more features will buy the pro version.
Additionally you can promote affiliate products that work with your plugin.
Remember to price pro plugins with recurring fees. Do not stick with one time payment because all CMS, programming languages, computers, systems, internet protocols, web browsers are constantly updated. And you will need to update your plugin accordingly making sure that it will work with all new systems. For continuing your development and providing outstanding support you need to have recurring payment for your plugins.
How do I make and sell plugins?
Create a couple free plugins that do not take much your time. Then see which of your plugins are getting popular. Add pro features to those plugins. Create great resources for teaching functions of your plugin. Promote it with written content and video. When needed to scale marketing use affiliates to promote your plugins.
It is better to use your own website to sell plugins. There you will have the opportunity to sell plugins for a recurring fee. On your website you can create detailed documentation and other learning materials for your users.
Can you make passive income developing plugins?
Passive income can be generated with plugins that do not require much future development. There are plugins that update once in a couple months. It is much easier to earn passive income with plugins compared to standalone software. Programming plugins will be very focused work solving the single biggest problem for your clients. When not expanding your plugin with additional features it can stay small and bring steady passive income.
Also be aware that your competitors can take over your success creating plugins with more features and better marketing. For this reason it will be risky to try earning passive income relying on a single plugin.
Conclusion on earning money developing plugins
Earning money by developing plugins is a beginner friendly way of generating income. You can start it alone by trying multiple plugin ideas. Earning potential of plugins is huge. Plugins use existing popular content management systems reaching all their customers. It is easier to succeed in the plugin category.
We learned that scaling plugin business will require a lot of staff when providing plugins for multiple CMS.
Knowing how others succeed in plugin business will help you to plan your future projects and make decisions accordingly.
Learn more ways to earn money for software developers (including passive income).