This is a story of how to build a big community for big platforms like WordPress and earn money from ads, affiliates, services and own products. Story of Syed Balkhi founder of WPBeginner.
Do you wonder how to earn money by providing free help for free platforms? How to scale your help and stay profitable? How to dominate in industry and expand by investing more in the same industry?
You can get an answer to all these questions learning from the success story of WordPress help resource WPBeginner.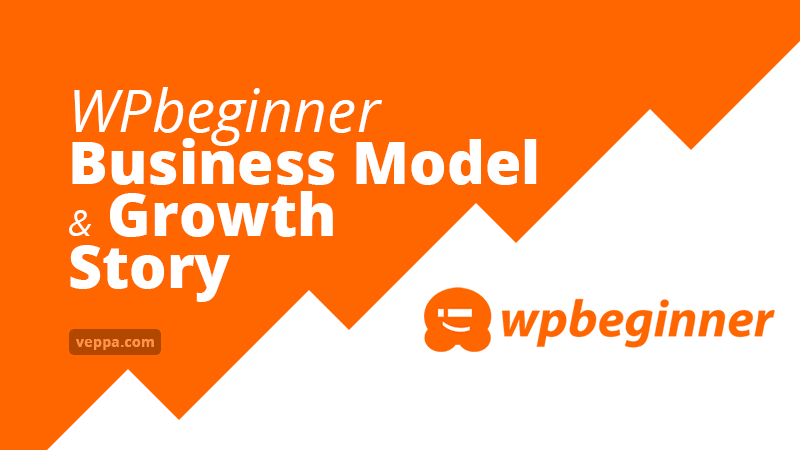 How did WPBeginner start?
Started at age 7 selling greeting cards on the street.
At 13 used proxies to play games in the school library, was designing logos and avatars in forums.
Then created a game site so children could play games. Needed lots of traffic to earn money from game websites. Realized that he needed web directories to add his website to it.
Started to build his own directory site and did some paid work.
Then started creating HTML web sites for clients who knew his family in person.
Need to update site content made to move his sites to WordPress platform. He offered it to clients "Instead of paying me maintenance fee every month you can update your site yourself if I move your site to WordPress for a certain fee".
Clients started to ask how to do things in WordPress. He needed step by step tutorials to teach clients to use WordPress. Saw that some sites were asking 400$ for video courses teaching WordPress, others offering PDF manuals.
Decided to build WPBeginner.com for teaching WordPress for beginners. Also theme and plugin design services to visitors.
How does WPBeginner find ideas for articles?
Blog topics are generated from user requests and own ideas. Then started to use twitter and search #wordpress to find what problems others have with WordPress and write about them in his blog. Then reply to that user in twitter linking to his blog post.
Twitter connection helps in the beginning when you have 100 followers, then those one to one connections make a big impact and you become friends with them.
In 5 years twitter followers grew to 100,000 and newsletter subscribers to 130,000. Currently in 2022 WPBeginner has more than 200k twitter followers.
Revenue is split equal with ads and affiliates.
Helped some known blogs and people to get on the front page of Digg.com for free. Then they helped to promote his WPBeginner on their blogs.
People started to ask to write reviews for their products, instead he wrote how to find solutions using their product and using affiliate links in articles to link to related products. This way it was not praising a product but offering a solution using that product.
WPBeginner launched in 2009 and after a year earned 100,000$.
Was creating content for a blog every work day per week, 5 posts weekly and spent 45 minutes per article. Content was bringing traffic and clients for consulting and web design work. Then hired designers/developers to do the work.
Did WordPress design work for clients like webs and checkpoint (zone alarm firewall software)
Site has lead generation purpose with beginner articles like "Why use WordPress?", "Free WordPress setup"
Offering free installation service if you purchase hosting using affiliate links that he provided. This also generated more leads because users then asked for extra features that he would provide as paid service.
On WPBeginner they update old posts with relevant solutions if visitors contact them pointing to content or plugins that are updated.
WPBeginner gets lots of traffic from WordPress forums, where users link to a solution posted in the blog.
Expand WordPress business with Premium plugins
In 2013 created his own product, OptinMonster , and started to make more money than the site was earning. Services were bringing good money but not scalable, you have to meet clients in person and discuss.
Earning money from affiliates and helping them to sell their product also helped to get ideas for building their own product and promoting it.
OptinMoster took 8 month to develop, too long for a plug-in. Idea came from a list25.com, list of 25 interesting items. He had 1.2 million YouTube subscribers and 200 million views. Videos were created from 25 items reading and displaying images in video. Was earning money from ads. Tried some popup plugins that didn't meet his requirement the idea of OptinMoster came.
He approached Thomas Griffin to build a plugin but first built a smaller plugin just to see if they could work together well. They built a floating social bar plugin which had 90,000 downloads first.
Then built OptinMonster as a plugin. Earned more than a million $ from OptinMonster plugin.
Hard part of product business is you have to find the right partner, you can't do development and marketing well at the same time. Also you have to support all your customers and always be in a good mood. You can't piss off your clients. Because there are thousands of them, it is not a one to one service anymore.
First clients were coming from WPBeginner. Then he reached his friends and clients with a big audience and offered a plugin to use and if they liked it then promoted it to their users. Also friends were happy with the conversion rate of OptinMonster .
People can steal it but they will not get support and updates. They contact if somebody violates copyright and warn them telling them they cannot do it. Code is GPL but design and images copyrighted. Also the name is trademarked; they cannot sell or offer it with the same name. Also files that are not downloaded from the original owner may have some harmful code in them which will ruin their website.
For support hired paid staff, that will respond in the forum.
There is a step by step guide to install and use plugins.
Suggestion for product developers not to use gmail or public forums. Because in forum customers can read old posts and not find relevant information, you always have to keep the forum up to date. Use a help desk system instead.
These are notes from an interview that is published on mixergy, you can view the full interview here.
Other popular plugin by WPBeginner is WPforms. It makes creating all sorts of input forms for WordPress easy. There are many popular form plugins on WordPress and most of them are profitable. Read success story of other popular form plugin Form Maker.
Lessons to learn from WPBeginner business success
Start thinking of business as early as possible
When is the right time to think about earning money? Right time is as early as possible. Even as a child thinking about earning money. When you read the biography of successful entrepreneurs most of them started earning some sort of money as a child. They dream about it, find solutions, try different strategies and learn a lot from the process. When they grow up they already have experience of finding opportunities and converting them to sustainable businesses.
Founder of WPBeginner also started earning some sort of money at age of 7. That experience of selling cards, promoting, and understanding clients led to building a big resource website for helping people and earning money from it.
Share your knowledge with people
Power of sharing is enormous if it adds value to the lives of people. They will thank you and will always try to help you in return. Founder of WPBeginner tried to make it easy to update website content for people and started teaching WordPress to them. WordPress was the best solution for his clients to add new content and update their websites regularly without needing to pay for web developers.
In return people left good reviews about him and his website. They recommended his services to other interested clients.
Learn to solve problems at big scale
Solving problems feels good but it is time consuming. To solve time and effort limitations you can scale problem solving by converting solutions to online tutorials that live almost forever. People can find your solution for many years and use it without taking any more of your valuable time.
When you think about it, teaching one person to start a blog with WordPress takes 1 day. Teaching 100,000 users one to one will take 274 years (100k days, 3,333 months). But when you create a tutorial article and post it in your public blog you can teach so many users every day.
Online blog helps to teach at a big scale. That is why WPBeginner earned $100k during the first year of operation.
Create content for solving known problems
Do you know how to find ideas for blog content? Search for problems in your niche (industry). Create a comprehensive tutorial solving the problem. This way you will create a big library of tutorials solving real problems in the industry. You will get constant traffic to your content and solve problems of users at a big scale.
WPBeginner found article ideas by searching niche forums and twitter hashtags. For every solved problem linked in the same forum thread or replied to twitter accounts. Users who found written tutorials helpful also shared content which resulted in traffic growth to the website.
Sell affiliate products by helping to solve existing problems
Solving problems with tutorials attracts focused traffic. When you use different software and services (free and premium) you can earn money by referring potential customers. This is known as affiliate marketing. Instead of promoting products you are using them to solve problems.
Instead of showing features of affiliated products you are explaining how your visitors can benefit from them. To sell a product, show how to use it to solve a problem.
Expand in area related to your main business
Once you have a big following on the internet and in social media you can expand your business in related areas. WPBeginner expanded into WordPress plugin business. Initially created a plugin for conversion named OptinMonster. Then applied the same growth tactics by acquiring more businesses related to WordPress plugins.
FAQ
How much does WPBeginner earn each year?
From this interview we know that WPBeginner earned 100k USD in the first year after being created in 2009. Current earning figure is more than 10,000,000 USD (8 figure via blog post in 2022) income yearly including all plugins and businesses that WPBeginner led.
How much content do you need to create for earning good income?
WPBeginner initially created new content almost every day that led to 100k USD within the first year of blogging. That will be around 350 articles. Income streams are adsense ads, affiliate sales and own products.
Currently in 2022 WPBeginner website has 2316 blog posts and around 360 other content types including pages, hosting reviews, deals, WordPress term glossary etc. That is roughly 200 new articles per year when distributed to 13 years of operation.
By the way, you can learn the number of articles on any blog by analyzing their sitemap.xml. All blogs use it to index their content faster on Google.
Conclusion
Lets conclude such motivational growth with simple takeaways.
Teach people what you know.
Do not be afraid to provide free help. Instead find a way to scale your effort and monetize it.
Stay focused in your niche.
Keep growing and repeat success with products in the same industry.
As a child, start thinking like a business owner or investor instead of thinking like a worker. Teach thinking like a business to your children as well.
This is a great story about how free content can create huge income for a blog. With the right tactics you can attract potential customers to your website and keep growing while supporting yourself financially.