There are plenty of free SEO tools that will help to make the optimization process easy, save time and eliminate guessing. Search engine optimization is key for increasing visitor traffic to a website.
List of free SEO tools that helped me to increase site visibility and traffic.
Site visibility increased more than 4 times over the last 12 months.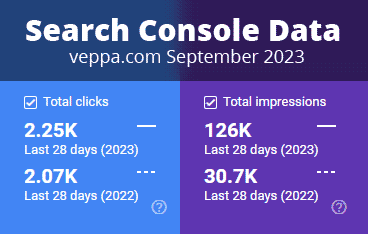 Mostly thanks to these tools and content creation.
All of these tools are free. Some tools have usage limits in order to cover running costs.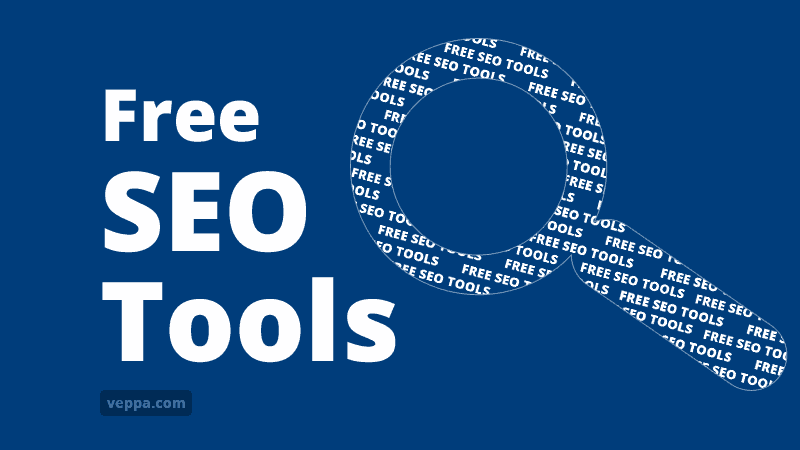 Free SEO tools
Google is one of the main search engine traffic sources for most websites. There is Google Search Console to make indexing and ranking processes easy.
It monitors the technical health of your website so you know that your content is indexable and consumable by real people. Without it, the SEO of your website will be mostly guessing work.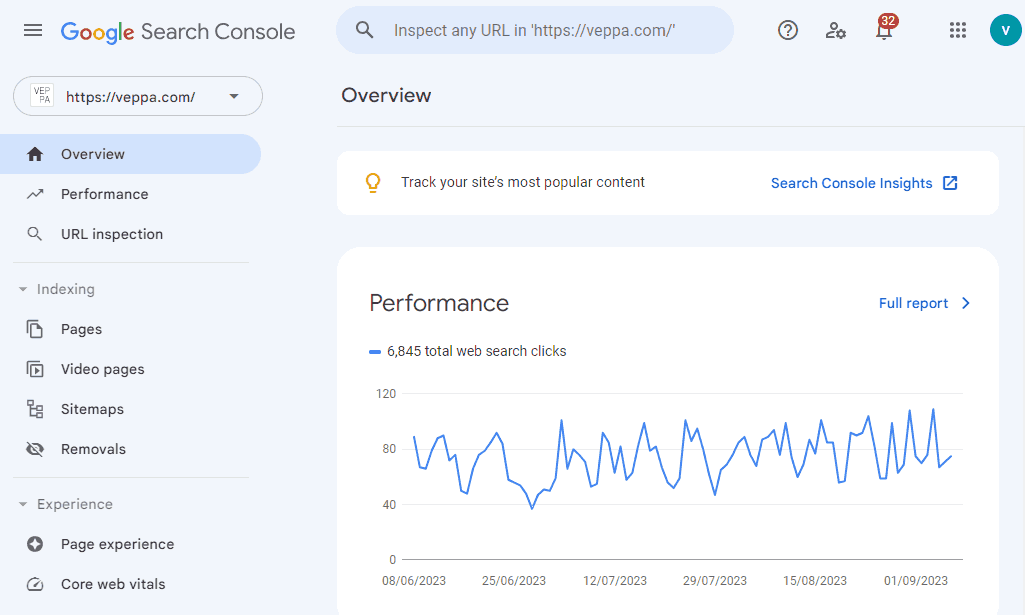 Features:
Content indexing report
Sitemap submission
Rich snippets report
Keyword and page search performance report
Page experience
Core Web Vitals
Server health
Internal and external links
All of these are free.
Do you wonder why?
Because google wants you to create a usable website with great content. Users will be happy using google to find important information on the internet.
Best feature: keyword performance report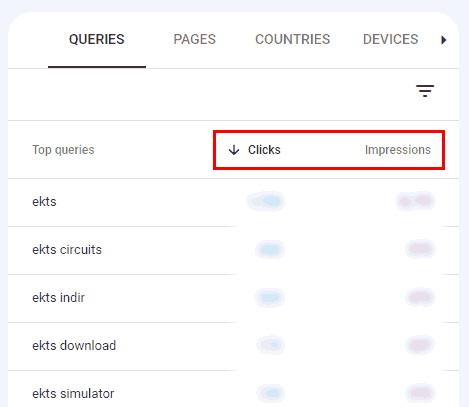 You get a detailed keyword performance report for the whole website. Reports can be filtered by individual pages.
This allows you to track individual pages with historical clicks, impressions, click through and position data in google results. Learn from the best performing pages. Find underperforming pages and enhance them with more updated content. Remove completely irrelevant pages from your website.
You can track websites that you work on after registration in Search Console.
When you need to find easy to rank keywords for free then the best service to use is KWFinder. With a free account you get 5 keyword research limits every 24 hours. It is enough for most new blogs that are starting to generate some content for their blog.
As an added bonus when you register for KWFinder service you can use the same account for promoting their SEO tool as an affiliate. No need to wait for approval.
Mangools SEO tool offers:
Keyword research
Competitor research
Domain profile with Domain and Page Authority
Backlink data
Keyword rank tracking for your domain
Best feature: Keyword difficulty
KWFinder shows keyword difficulty so you will know which keywords are easy to rank. Once you rank for many long term keywords you will start ranking for main keywords with much high traffic potential.
Free account limitations
To use KWFinder you need to register with your email address. After registration you can search 5 keyword ideas every day. Every search will show 15 related keywords with keyword difficulty and search volume for each of them.
As a new user you may get increased limits for the first 10 days.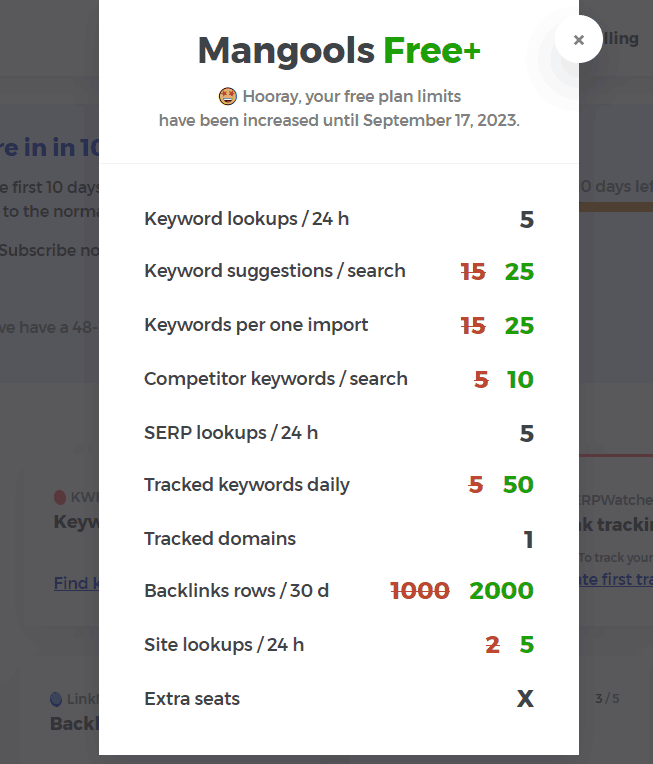 What I like in Mangools is that with a free account you can use all features of the SEO tool that is available in their paid plans. Paid plan has the same features but with increased limits.
PRO tip: Pay attention to NOT USE chrome or firefox extension. Every time when you click on an extension it will use your daily limit.
Be wise and use your daily account limits by manually engaging inside your account dashboard.
Optimizing WordPress websites for SEO should be done with plugins. Rank Math SEO is a plugin with multiple modules that covers all areas of your website optimization.
I have been using Rank Math SEO for more than a year.
Check these results that motivate me every time I visit the Rank Math SEO dashboard.
Did you notice the Total Keywords report?
This is not available in Google Search Console. It is calculated by Rank Math every time when it gets a report from there.
I am loving it and excited to see it growing.
Plugin has many features including:
Sitemap generation
Schema markup for rich snippets
404 monitoring
Redirections
Keyword rank tracking by integration with Google Search Console
Content optimization checklist
Optimize articles with multiple keyword variations
Read my detailed Rank Math SEO review to learn how I utilize this plugin.
Best feature: multi keyword optimization
While most free WordPress SEO plugins allow optimization for single keyword Rank Math supports 5. Which can be extended with custom code if needed.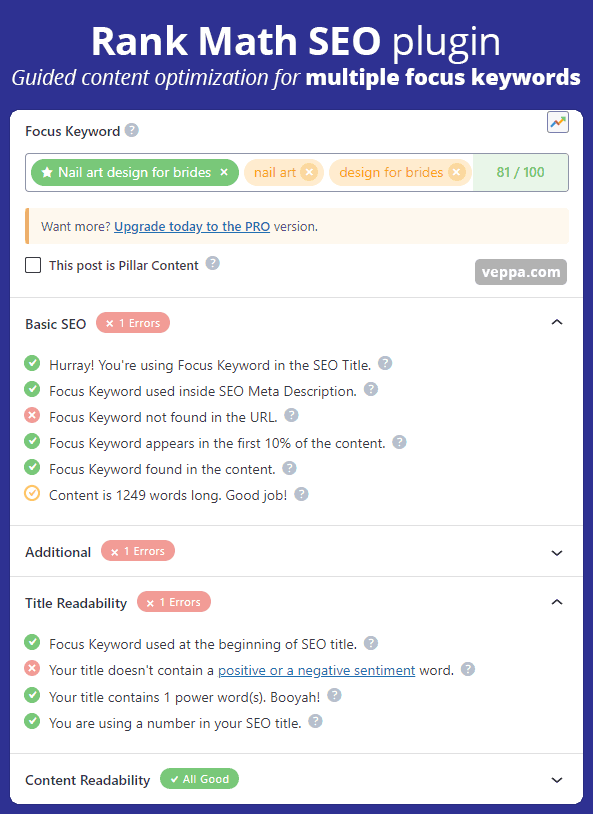 Article optimization should be done with multiple keyword variations in a single topic.
This is one of the least known free online SEO tools that detects technical issues on your website. Siteliner helps to detect indexable pages, page size, word count, Page Power, duplicate content, common content, page load time, internal links etc.
User interface is simple and fast.
After scanning your website you will see how it compares to all other scanned sites.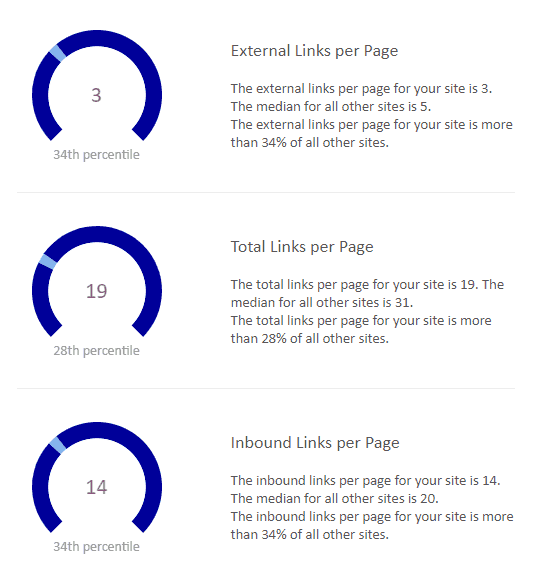 Which can be used to know how many internal and external links you should add in your articles, how many words should you use etc.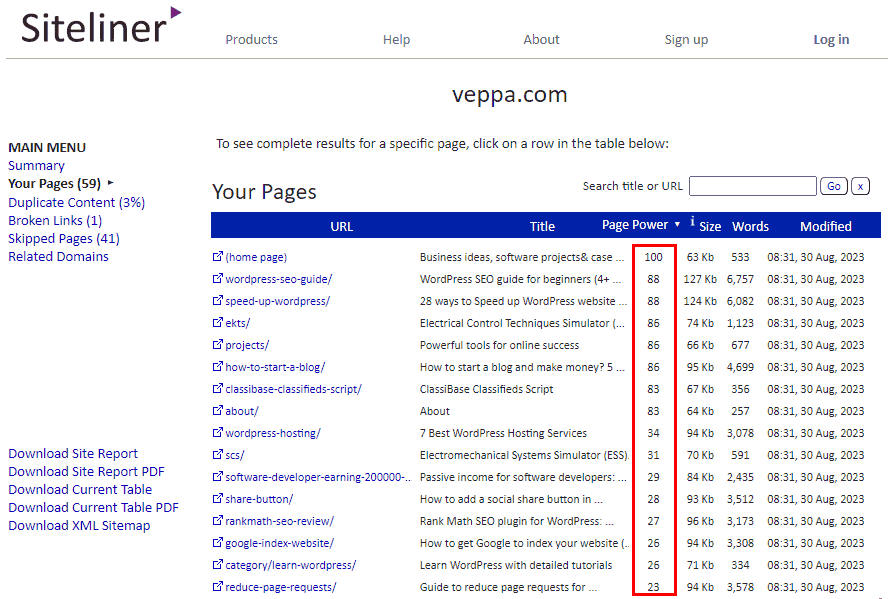 Page Power – is an internal page rank that is calculated using internal links. It is a way to see how effective your internal linking pyramid site structure is. Important pages should have higher Page Power.
There is no limit in the number of websites you can scan. Which means you can scan competitor websites and detect their important content by Page Power (internal page rank).
Best feature: Duplicate content detection
Report will show you pages with most duplicate content. Each page has match percentage and matching pages.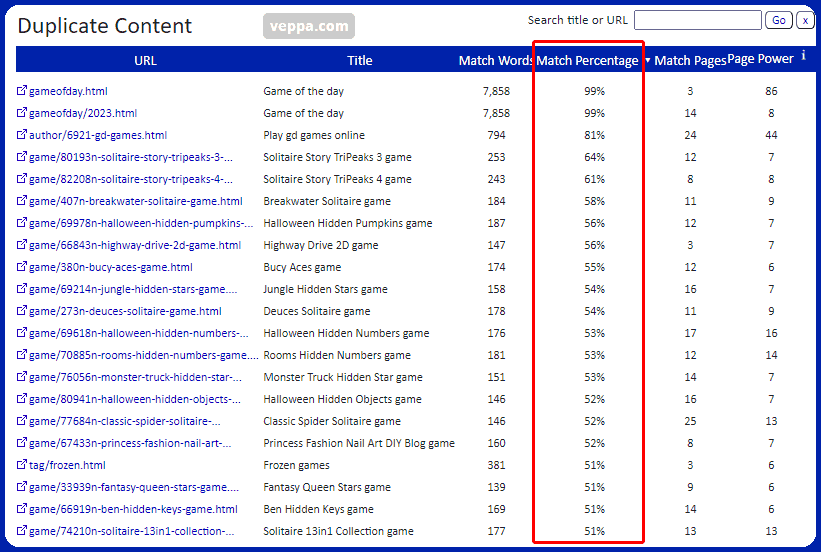 I have used duplicate content detection to understand the reason when the number of indexed pages started to decrease.
After finding and fixing duplicate content issues, a number of indexed pages started recovering. Check detailed recovery case study here.
Free version limitation
Siteliner allows you to scan 250 pages for free. Which is enough for most niche blogs. Scanning is super fast. Registration is not required.
Site report is cached for one month so you can use the generated report in that time frame. Fresh results can be generated after a month.
Do you want to check what is shown for your search term in specific location on different devices. SERPerator will show you scrollable screenshot of google search results page.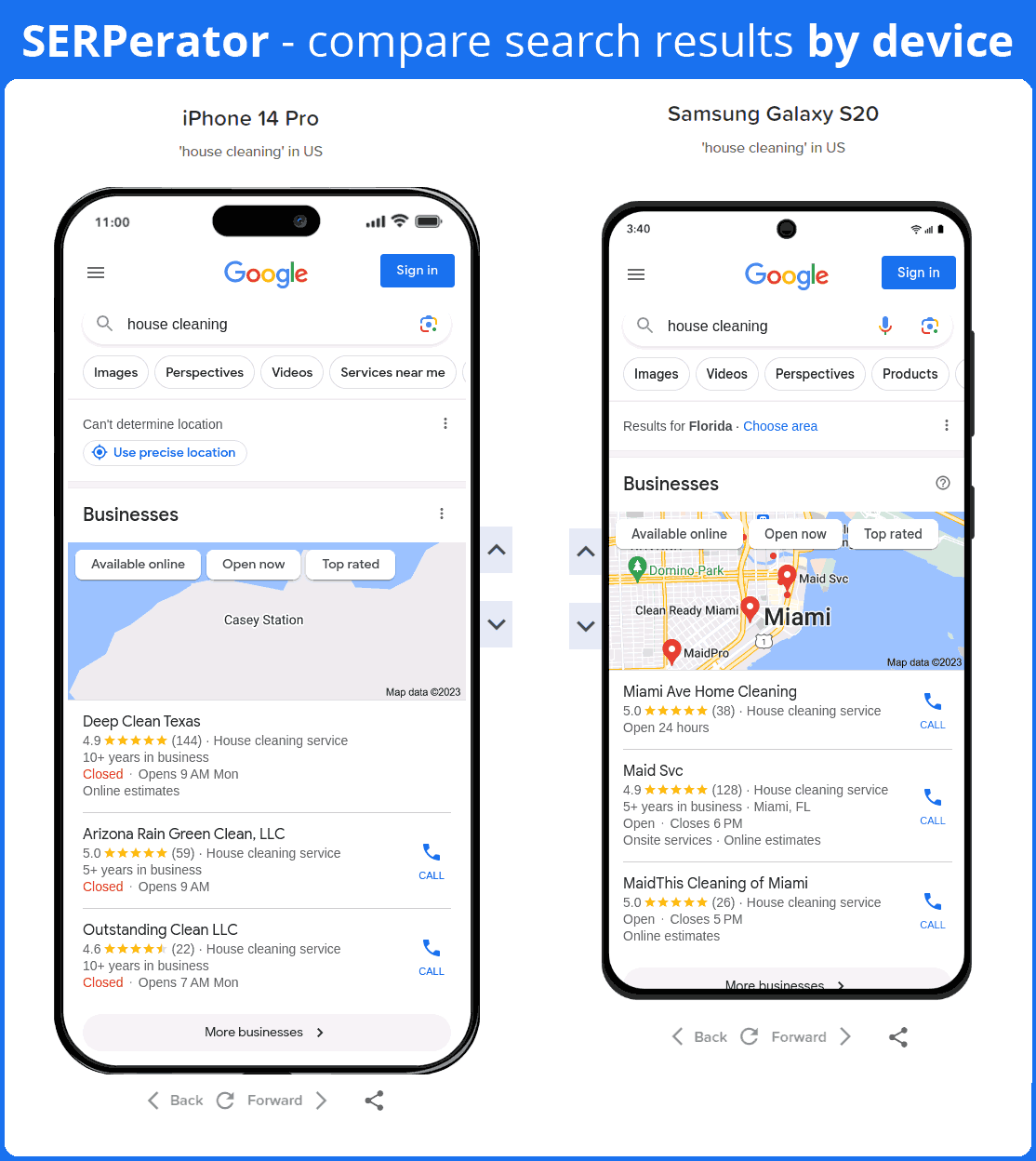 Best feature: geo location
You can select the exact location where search is performed from. Country, city, zip code, street address etc.
This is good for making sure that you appear for important locations.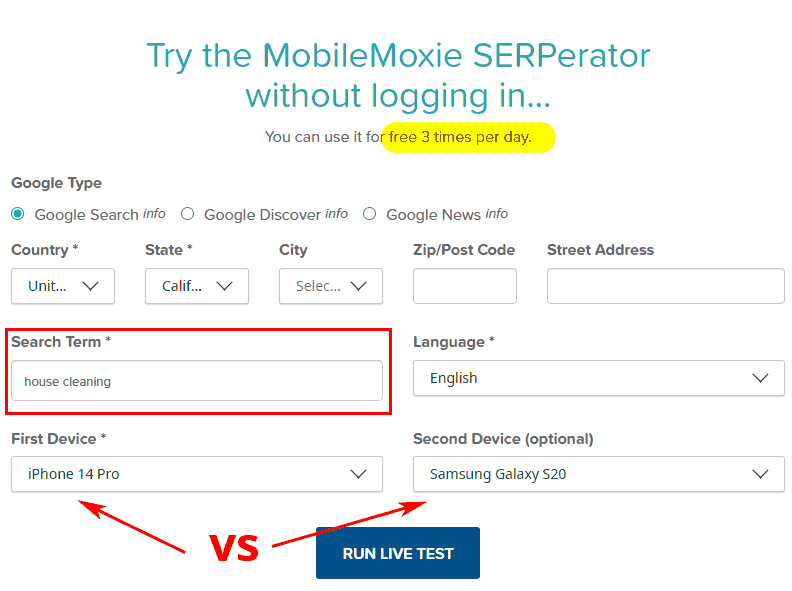 This is useful when you optimize a client website that is located in another country.
Free tool allows you to check 3 search terms daily. And this is without any registration.
One of the best known desktop web crawlers. Screaming Frog allows you to scan 500 URLs of your website for free. It is a desktop application so you can scan your local (localhost and development stage) projects as well.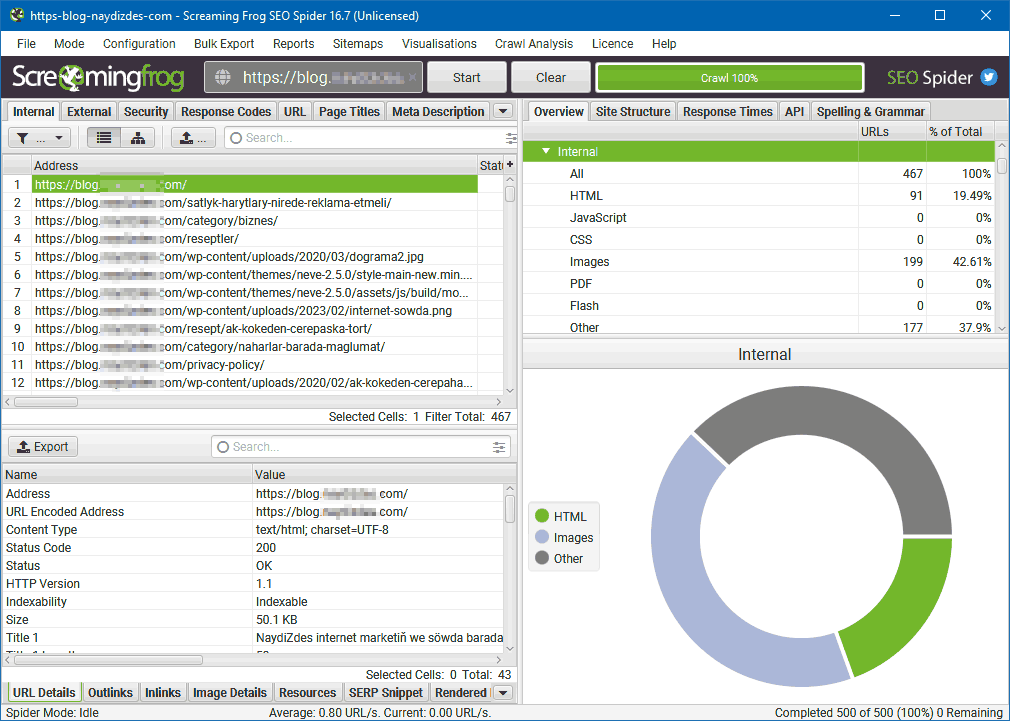 It gives plenty of info about your website. Good for finding unoptimized pages in bulk. Like thin content, few internal links, show or log page titles etc.
Beast feature: visual site structure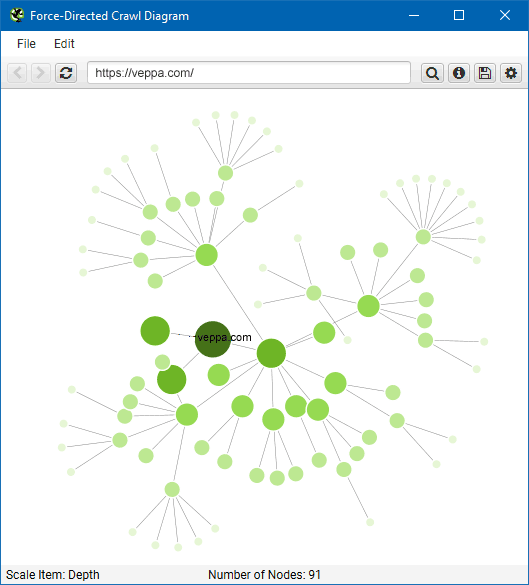 Force-directed crawl diagram imitates search engine crawlers and shows your site structure. Important pages are displayed bigger. Link equity flows to levels below. All pages reachable within 4-5 levels. See how I used a screaming frog to pyramid site structure on my website.
Free limitations
You can scan 500 URLs in total. It includes CSS, JavaScript, images, HTML pages etc. When needed for HTML pages only you will get around 50-100 pages.
You can scan only one project at a time. Project cannot be saved so you need to recrawl it each time.
Completely free SEO crawler that works on your computer. SEO Macroscope allows you to scan any website for technical SEO issues. No limitations at all.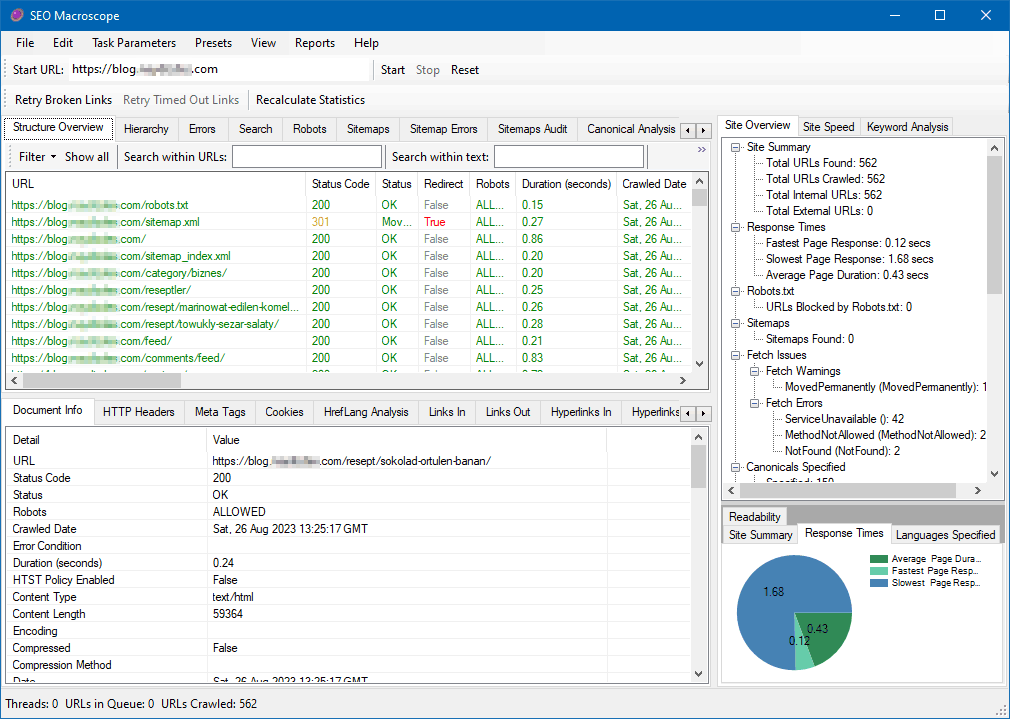 Desktop SEO scanners are generally slow. SEO macroscope allows you to save a scanned website session and use it later without need for scanning again.
You can limit scan to web pages only which will be faster than scanning it with images and other files.
Best feature: Orphan page detection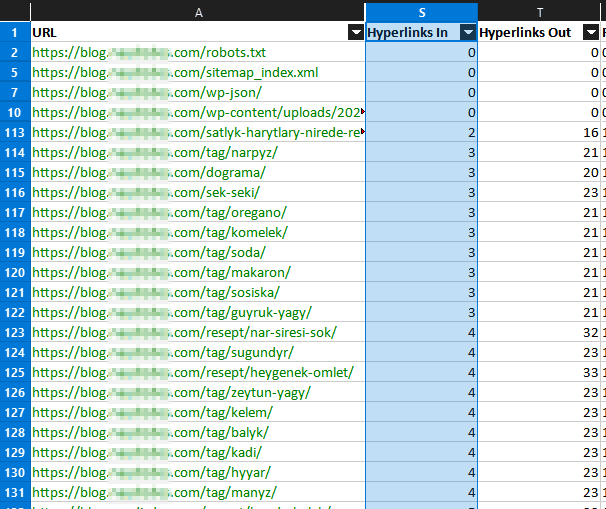 Sorting pages by incoming links helps to detect orphaned pages. You can export reports as excel documents and filter pages with the least number of incoming links.
One of the least known SEO tools in the market. Maybe because of its not original name. Anyway this is desktop software for site auditing.
Regardless of the poor name, Size Analyzer crawls a website and checks all SEO signals like title, description, 404, redirects, page load time, internal and external links.
Best feature: Internal page rank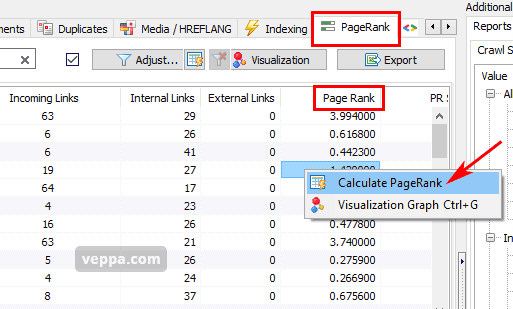 Size analyzer uses a custom formula to calculate internal page rank for all pages. This will help you to make sure that important pages are linked and promoted enough on your website.
Free version limitations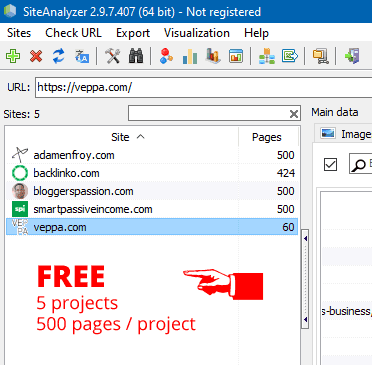 500 pages for 5 websites for free. Report is saved inside software and can be used without crawling the website every time. Apart from screaming frog in you can limit crawler to web pages only in the free version.
SEO tool in the form of a browser plugin. Works on Google Chrome and Firefox. Used for page analysis, internal / external links, keyword density, on page technical SEO issues.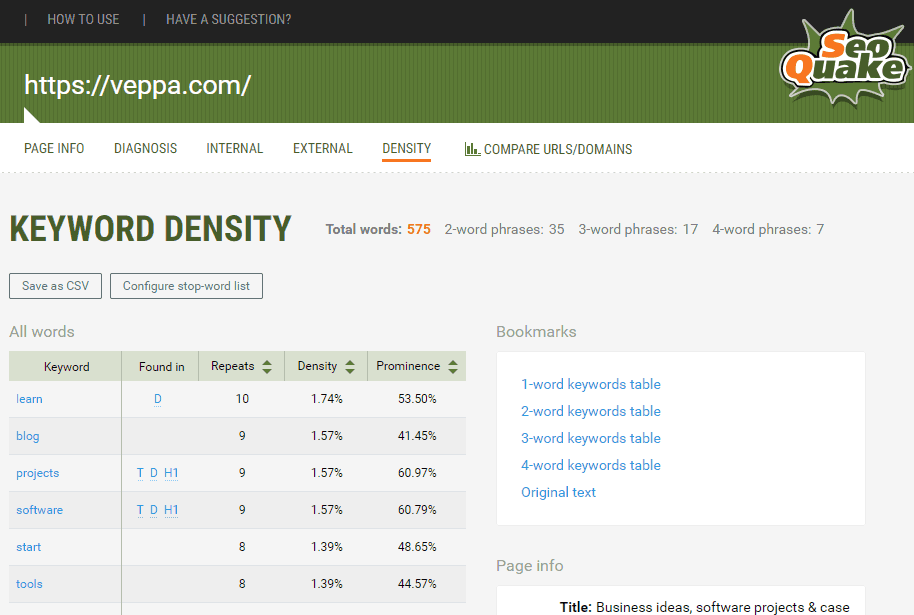 Best feature: SEO info in SERP
You can view quick SEO info about the page within the search engine results page (SERP). It saves time when analyzing first page results for detecting keyword difficulty.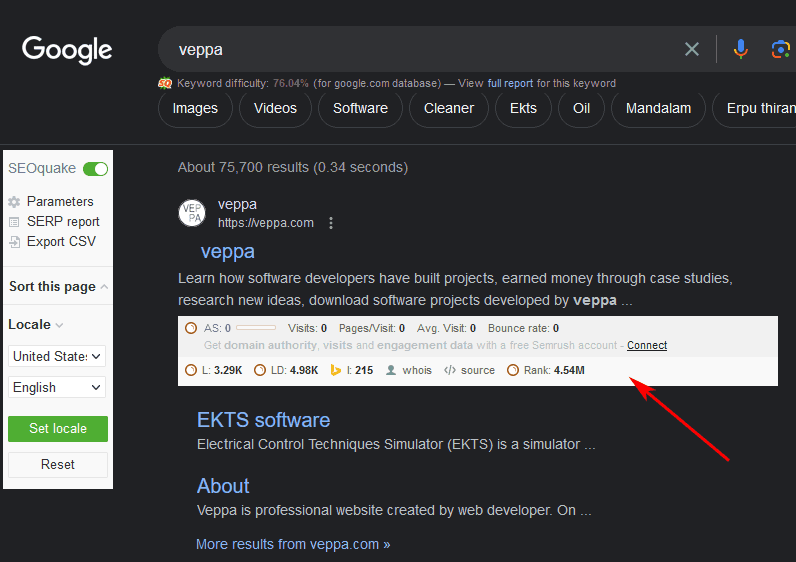 Easy to rank keywords have sites with few incoming links on the first page.
SEOquake gets data from Semrush service.
Site speed is very important for users and SEO. PageSpeed Insights helps to measure performance of pages on your website. You will know how fast your website is.
Check PageSpeed report for the homepage of my website.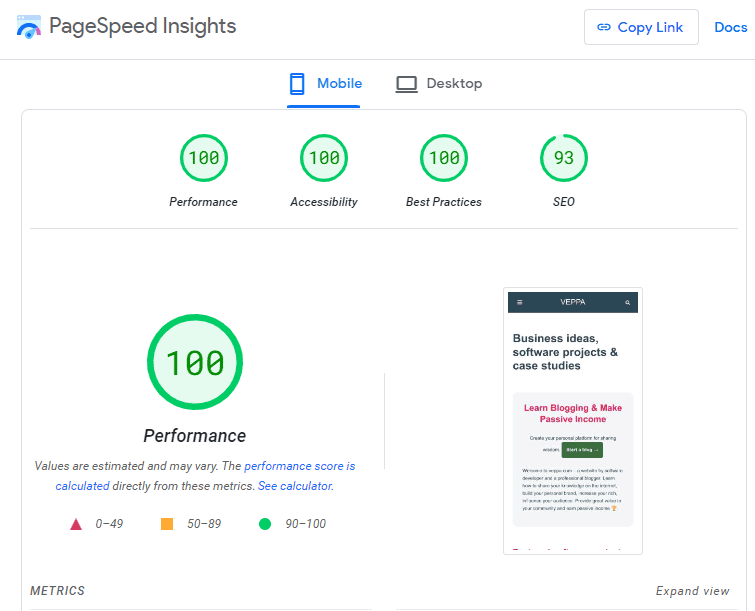 When your website is really slow you will see a report like this.
PageSpeed Insights will show exact reasons why your page is so slow. Along with recommendations on how to improve page performance.
Most of the time you need to optimize page assets and loading time of external resources. Check how I use PageSpeed Insights reports to detect, reduce and delay page requests. Thanks to it all my sites are always fast.
Best Feature: Automated performance report
You do not have to test every page of your website with PageSpeed Insights. It is already integrated into Google Search Console.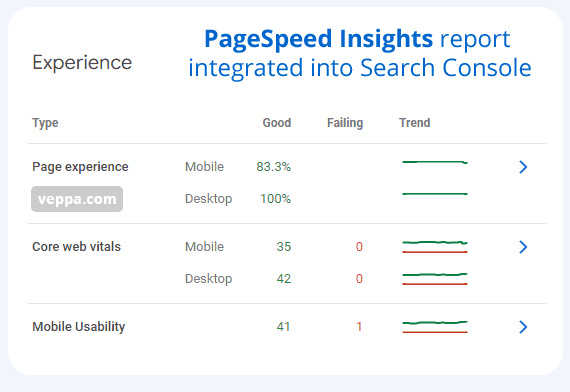 You will notice when there are slow pages on your website that should be fixed.
More free speed checking tools.
We all know that CDN (content delivery network) speeds up any website. Fast website is important for SEO and user experience. Cloudflare is a free CDN service that will serve the content of your website using a distributed network.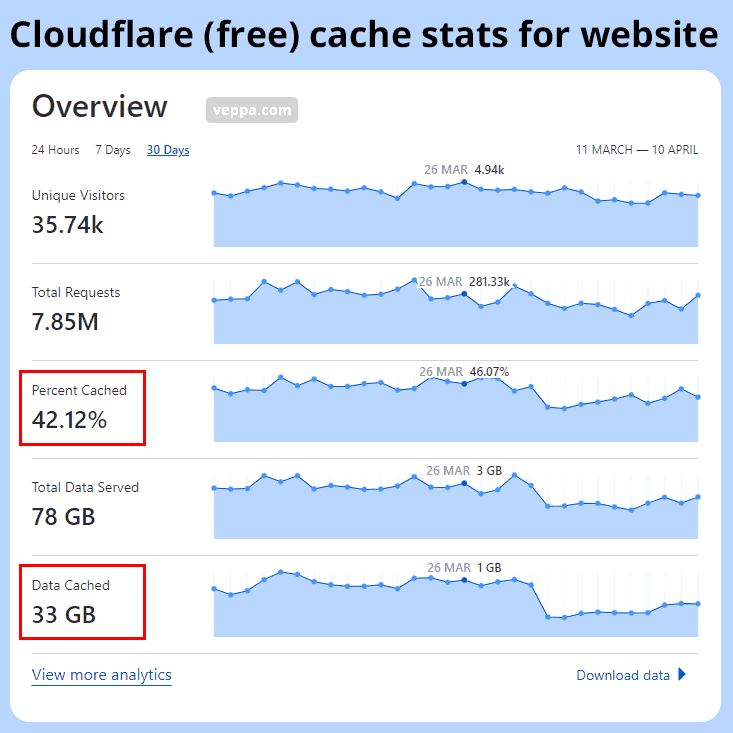 Its servers are all over the world. This makes your website load fast from any country in the world.
Cloudflare serves content (javascript, CSS, images etc.) by catching them on their servers. This also reduces bandwidth and processing usage of your own servers. With Cloudflare you can serve millions of pageviews fast even on cheap WordPress hosting providers.
Best Feature: Page cache
With the help of Super Page Cache for Cloudflare plugin you can cache and serve complete web pages on Cloudflare.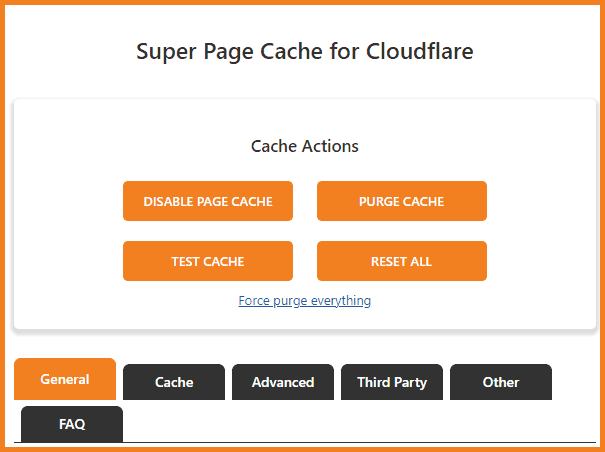 Plugin makes page caching for WordPress possible with a free Cloudflare account. Normally cloudflare charges for built in flexible page caching features.
This is one of the hidden keyword research tools. Google autocomplete suggests search terms when you start typing in search terms.
To get a long tail most searched keywords type a couple words and start typing other words.
Here is how it looks.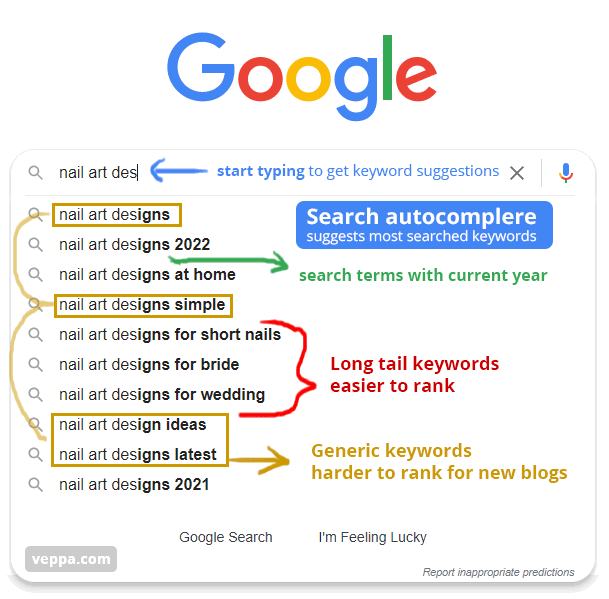 It just shows what is searched by real people.
It will not give you monthly search volume or keyword difficulty. Still keyword suggestions are good.
Choose easy to rank keywords that have 4-5 words in them. Also known as long tail keywords.
Best Feature: Related questions
After finding the keyword to write content, search for it and scroll down to the "People Also Ask" section in Google results. Answer the most relevant questions inside your content.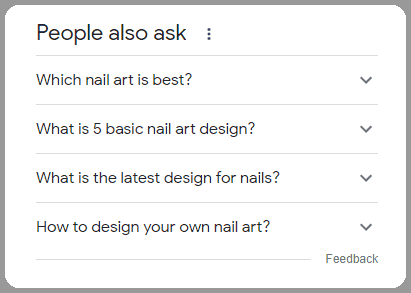 Get more related questions by expanding and closing questions.
SEO success is measured by numbers. You can view traffic sources, landing pages, number of visitors, pageviews, bounce rate, engagement and conversions.
Google analytics helps to measure your blog's success.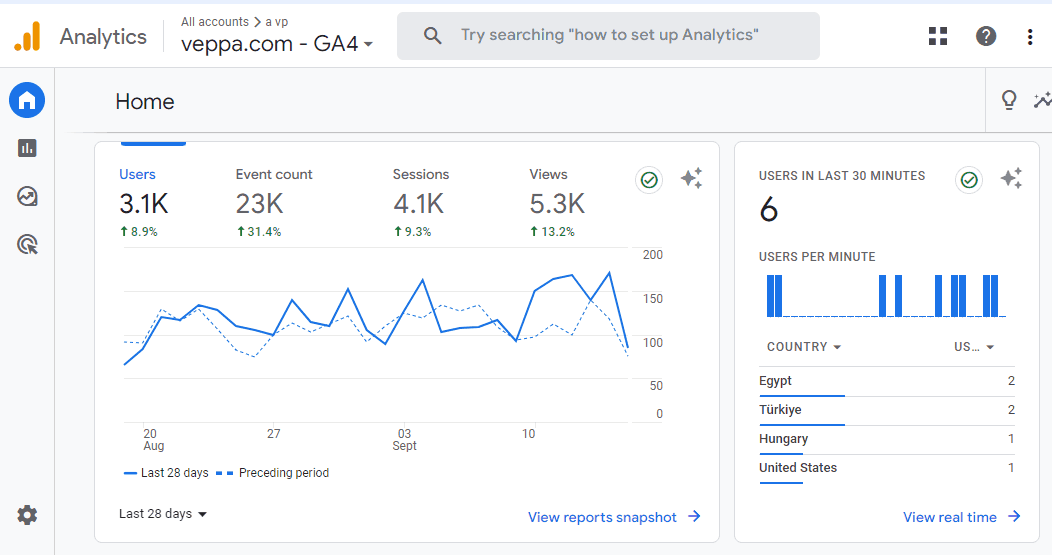 Best Feature: Search Console integration
Analytics integrates with Search Console to show your SEO performance.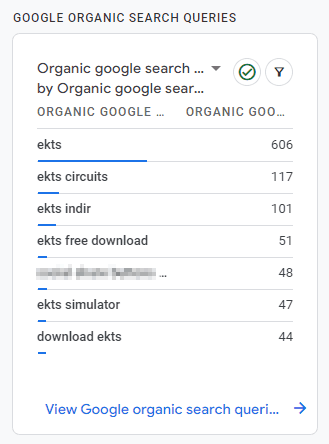 Google trends help to inspect keywords and topic by country. We all want to write evergreen articles. Select a bigger range like 5 years and check if the given keyword is trending up.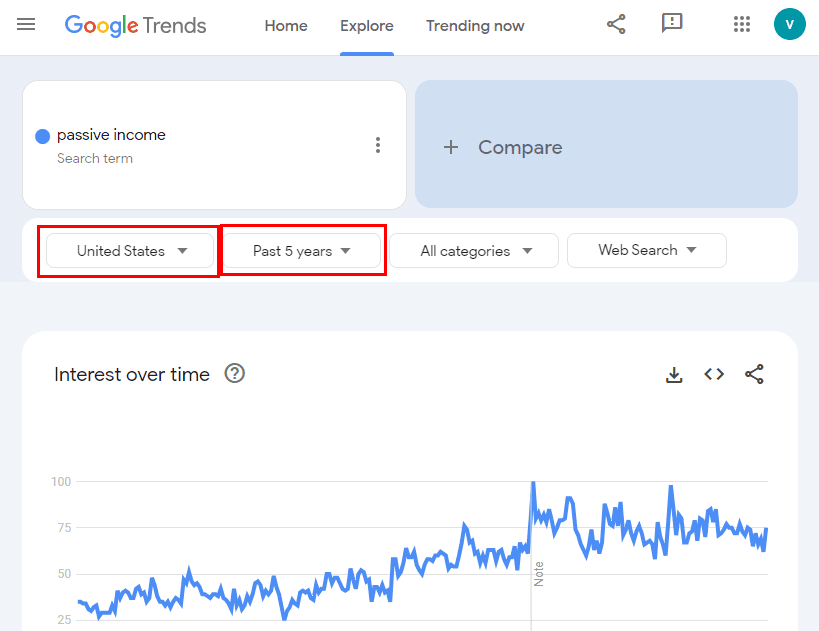 You also get related topics and keywords (queries).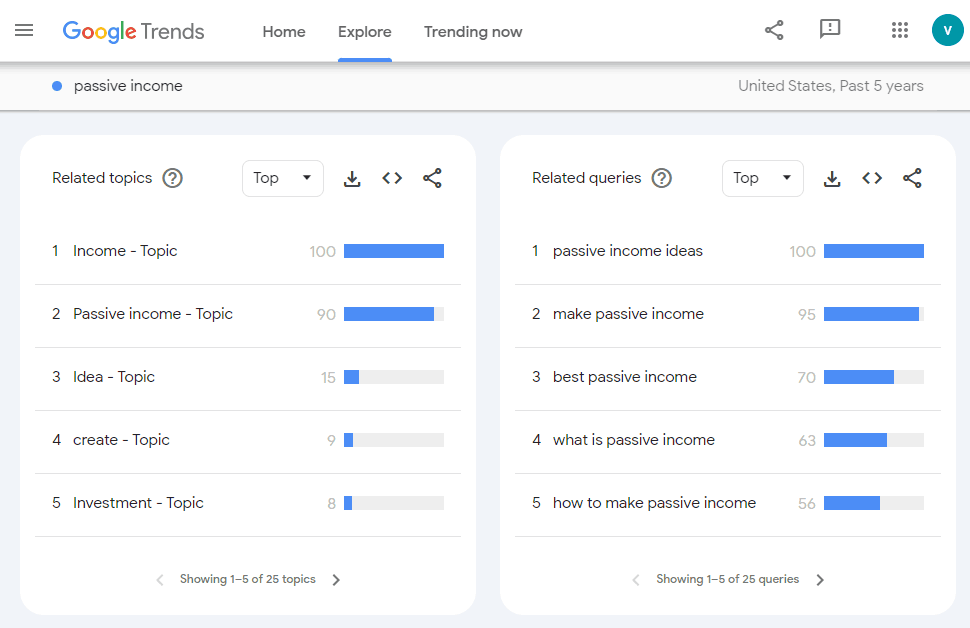 Ahrefs has plenty of SEO tools for free.
You can do:
Keyword ideas with difficulty score.
Get 100 backlinks report for domain or page.
Get a Domain Authority score.
Get competitor traffic estimation.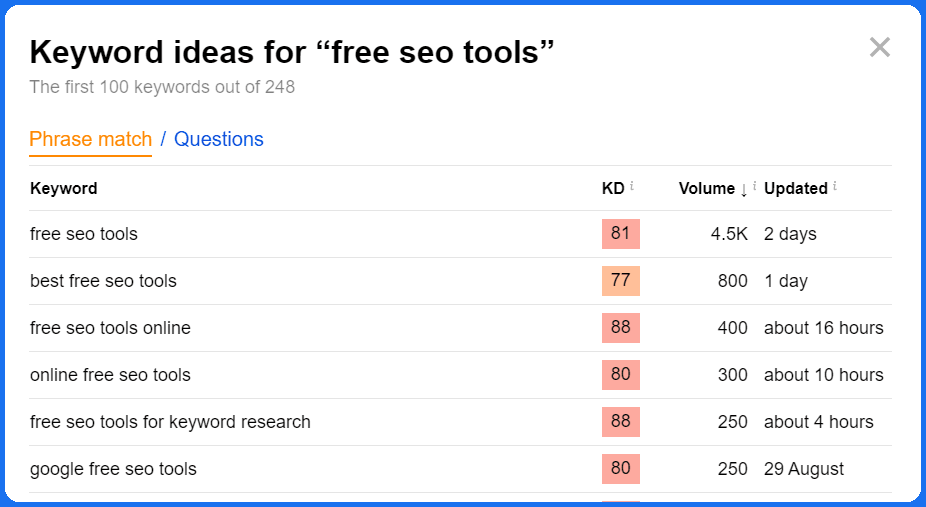 Here is how keyword research looks like.
Do you wonder how your website is doing in terms of authority? You can check it with Ahrefs and get a report like this.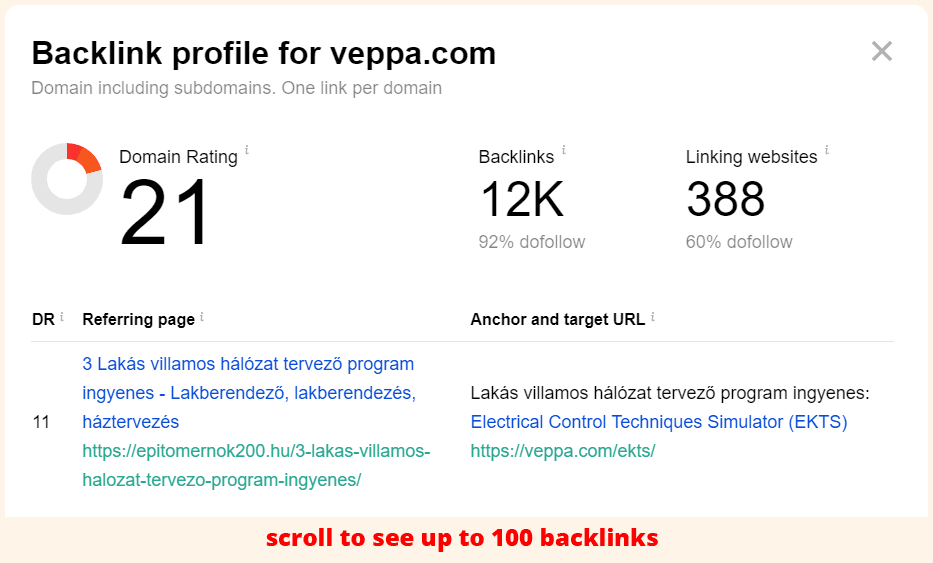 Report with your domain authority. 100 incoming links from different domains. With each link you also get the domain authority score of that website as well.
You can use this data to research your competitors. Check their links and work on gaining links from relevant domains.
This is one of the oldest SEO plugins for WordPress. Yoast SEO makes it possible to add custom title and description to your blog posts, manage sitemap, optimize content for target keyword, and internal link count.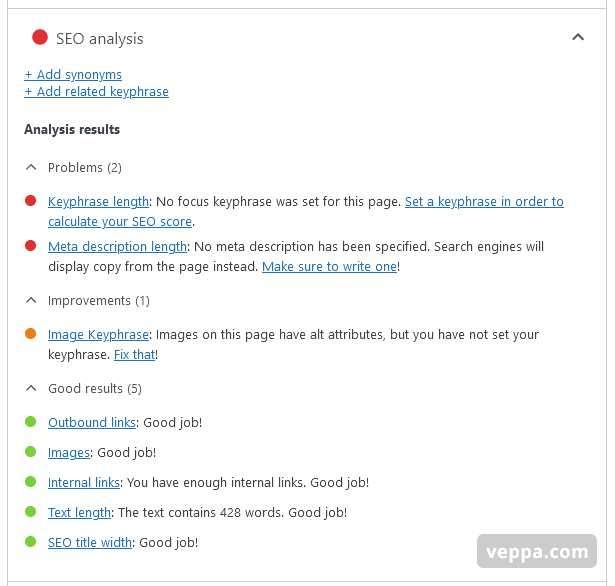 I have used it for a long time before switching to another plugin.
Google has a keyword planner tool that can be used for finding new keyword ideas. It shows monthly search volume, competition (for google ads) and CPC (cost per click for google ads).
Keywords with high CPC have more commercial intent. Content optimized for those keywords converts well for selling products and services. They can also bring high adsense and affiliate revenue.
Best feature: keywords by page
Keyword planner can generate keywords by whole domain or single page URL. This helps to find which keywords are targeted by any competitor website.
This way you can find new keyword ideas that can fit your website. Create content targeting those keywords.
Those keywords do not mean that page ranks for it. They are just found inside content.
Tools by feature
FAQ
Does Google have a free SEO tool?
Yes, there are many tools by Google that can be used for SEO. Search console, Analytics, Keyword Planner, Google Autocomplete, Page Speed Insights are main tools by Google that can be used for SEO.
How can I do SEO for free?
Read beginner guide for SEO. Use free tools listed here to complete various SEO tasks. Regularly track your site performance.
Why are some free SEO tools limited?
Every business that provides SEO tools requires to cover expenses and generate profit. Some companies like Google generate income from ads and use user generated content for publishing ads. For this reason, Google's SEO tools are free.
Other SEO tools give a limited set of features in limited amounts for free. This is to allow users to try SEO tools. Premium plans are for those who need more usage and features.
Conclusion
These are the best free SEO tools to improve every area of your website. Use them to find easy to rank keywords, build quality backlinks, create optimized content, improve website speed, increase user experience, find and fix duplicate content.
Remember that no tool will optimize your website automatically. You need to know how to optimize your website (check my SEO guide) and use these tools.