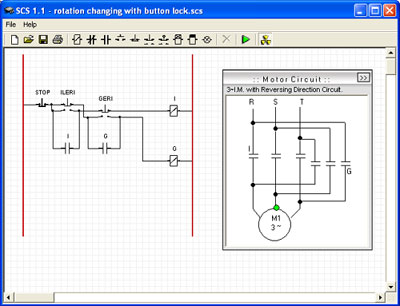 56346 downloads — 3 MB
Tutorial Documentation Docs Turkish
Electromechanical Systems Simulator Features
Design and test of Electromechanical Circuits theoretically
Study working principles and analyse current flow process through circuit
Ready to use motor circuits
Take print out of circuit or save as image for preparing study materials
Test circuits before applying them on the plant
Description
Nowadays, the learning methods (activities) and tools show more and
more varieties with the developing of computer technology.
Simulators have become the most important tools of computer-based
education. We have a thought the technology being used in education
more effectively will help improving the quality in this area. For this
reason, a simulator (Electromechanical Systems Simulator) for the
education of electric control
techniques (sequence control) is developed for more easy learning,
spreading the studies outside the laboratory (home or school),
and increasing the ratio of active participation. By using
Electromechanical Systems Simulator ESS, the control experiments in
content of the course electric control
techniques are executed in more safely atmosphere. Therefore, students
will be able to set up different applications that they wonder
and see results easily. Moreover, student's self confidence and their
interest to the course will increase. In particular, they will
consciously and willingly participate to the laboratory studies.
SCS was presented in 3rd International Advanced Technologies Symposium.
Gazi University, Ankara/TURKEY, 20 august 2003
Screenshot of Electromechanical Systems Simulator ESS
Alternative Download Locations for ESS